Guardiola reflects on Champions League pressure as Manchester City eyes title defense
Pep Guardiola reflects on the reduced pressure to win the Champions League after their success last season.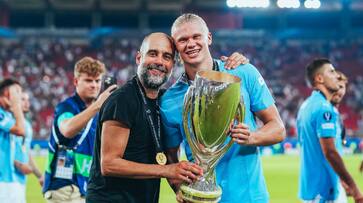 Pep Guardiola stated that the burden of winning the Champions League for Manchester City has diminished following their success in the competition last season. Prior to their triumph in the previous Champions League, City's performance in European competitions had faced scrutiny. Guardiola's team secured a historic treble by defeating Inter Milan in the final.
Before the previous season's victory, the Spanish manager had gone 12 years without winning the competition. He had been unsuccessful in his attempts with both Bayern Munich and Manchester City, despite prior successes with Barcelona in 2009 and 2011.
As City prepares to defend their title against Young Boys, Guardiola discussed the atmosphere within the club. He mentioned that people in Manchester used to ask him in every press conference when he would win the Champions League, but now that question has vanished. Guardiola and the team are currently savoring the moment but are well aware of the challenges that lie ahead in the competition.
Guardiola also expressed satisfaction with the team's mentality at the beginning of the new season after their treble success. He emphasized that they have been competing effectively in all their matches, which is evident by their strong performance in the Premier League and their six points in the Champions League. He credited the players' mentality for their impressive start to the season and their ability to compete at a high level.
Also Read: Cristiano Ronaldo's brace propels Al-Nassr to a thrilling victory in AFC Champions League (WATCH)
Last Updated Oct 25, 2023, 3:31 PM IST