Guarding Emiliano Martinez's World Cup accolades? Argentina goalie shows off security dog in action
Argentina World Cup-winning goalkeeper Emiliano Martinez, who sparked massive controversy after his exploits in Qatar, has shown off his guard dog - a similar breed to those used by the SAS and US Navy Seals.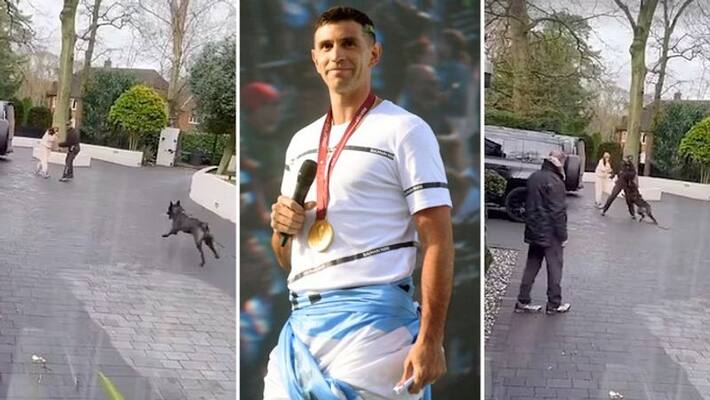 Qatar World Cup 2022-winning Argentinian goalkeeper Emiliano Martinez flaunted his 20,000-pound security dog, a canine of the same breed as the SAS and US Navy Seals. 
The Aston Villa goalkeeper shared a video on Instagram of the protection dog in action, showing an 'intruder' being fully repulsed by its razor-sharp teeth as they attempted to 'attack' his wife Mandinha outside their house.
According to sources, Martinez purchased the dog last week to guard his home, family, and awards. Martinez received the Golden Glove award for being the best goalkeeper when Argentina won the World Cup in Qatar.
Also read: French legend Patrick Vieira blasts Argentina's Martinez for taunting Mbappe and 'damaging the game'
A Belgian Malinois security dog, like those employed by the elite military in conflict zones, has been purchased by Martinez. They can weigh up to 30kg and cost at least 20,000 pounds.
Numerous top-flight footballers have had their homes targeted by thieves in recent years, prompting several celebrities to try to increase their protection.
Among the football stars who have previously purchased guard dogs from the business are Mikel Arteta, the head coach of Arsenal, and Hugo Lloris, the French goalie.
Former England stars Ashley Cole and Jack Wilshere, and heavyweight boxing world champion Tyson Fury, have also used the company.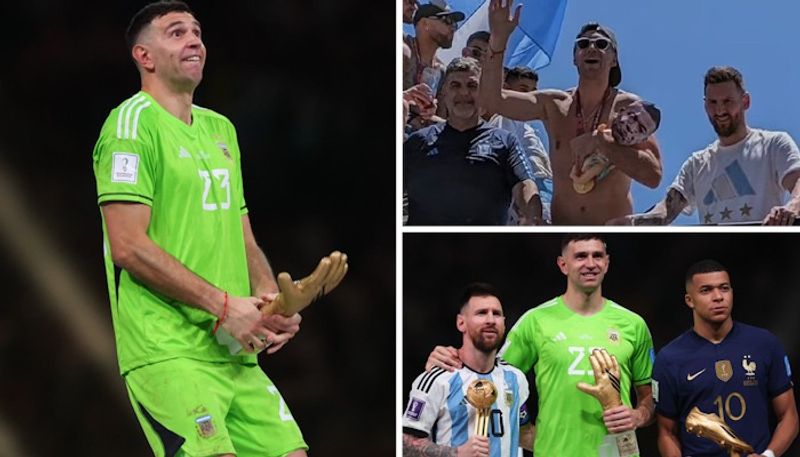 Martinez's actions during Argentina's World Cup 2022 celebrations back in Buenos Aires sparked a massive controversy as the goalkeeper mocked France's Kylian Mbappe by clutching a baby doll with the PSG star's mask on it.
The Aston Villa goalkeeper also made an obscene gesture after being awarded the Golden Glove for the showpiece tournament's best keeper, which led to further criticisms of his actions.
When questioned about his goalkeeper's antics in Qatar, Unai Emery, the club's manager, revealed he would now advise Martinez to "control his emotions."
According to reports from Spain, Emery wants to offload Martinez in January after being dissatisfied with his post-World Cup antics.
Also read: 'Why is Messi silent?': Mbappe fans fume as Argentina's Martinez continues to mock PSG star's World Cup loss
Martinez missed Villa's 2-0 victory at Tottenham on January 1 due to his return from Argentina, although he did wear the gloves for the 1-1 draw against Wolves at home three days later.
Martinez sat on the sidelines as League Two Stevenage shocked Villa in the FA Cup third round on Sunday.
Last Updated Jan 10, 2023, 8:06 PM IST