FIFA imposes 3-year ban on Luis Rubiales over Jenni Hermoso kiss during Women's World Cup 2023
Luis Rubiales banned by FIFA for three years over a scandal involving a kiss at the Women's World Cup; Jenni Hermosos returns to the Spain team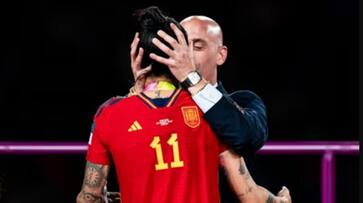 Former Spanish Football Federation (RFEF) president Luis Rubiales has been banned from all football-related activities by FIFA for three years. This action comes as a result of Rubiales kissing Spain footballer Jenni Hermosos on the lips during the Women's World Cup final presentation ceremony after their victory over England in August. Rubiales initially attempted to continue in his role but later resigned, and he has now been penalized for breaching article 13 of the FIFA disciplinary code.
FIFA issued a statement saying, "The FIFA Disciplinary Committee has banned Luis Rubiales, the former president of the Spanish Football Association (RFEF), from all football-related activities at national and international levels for three years, having found that he acted in breach of article 13 of the FIFA Disciplinary Code. This case relates to the events that occurred during the final of the FIFA Women's World Cup on 20 August 2023, for which Mr. Rubiales had been provisionally suspended for an initial period of 90 days. Mr. Rubiales has been notified of the terms of the FIFA Disciplinary Committee's decision today."
"In accordance with the relevant provisions of the FIFA disciplinary code, he has 10 days in which to request a motivated decision, which, if requested, would subsequently be published on legal.fifa.com. The decision remains subject to a possible appeal before the FIFA appeal committee."
FIFA also emphasized its commitment to respecting and protecting the integrity of all individuals and ensuring that the basic rules of decent conduct are upheld.
In Spain, the high court has been examining the case after prosecutors cited concerns that there could be grounds to charge Rubiales with sexual assault as well as coercion over the Hermoso kiss.
Jenni Hermoso made a triumphant return to the Spain team on Friday, coming on as a substitute against Italy to score the winning goal in a 1-0 victory in the Nations League. In a statement published in late August, Hermoso described the kiss as an "impulsive act, sexist, out of place, and without any type of consent from my part." Rubiales, however, claimed that the kiss was consensual and vowed to defend his "innocence."
Last Updated Oct 30, 2023, 5:29 PM IST