Didier Deschamps reveals whether Paul Pogba has a future with France - WATCH
Amidst a doping controversy surrounding star midfielder Paul Pogba, France's national team coach, Didier Deschamps, speaks out about the uncertainty surrounding Pogba's future.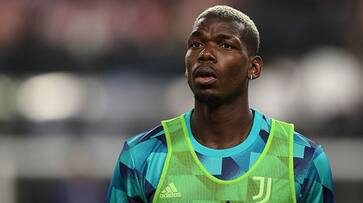 France coach Didier Deschamps has refrained from making any commitments regarding Paul Pogba's future in the national team, following reports of a second positive drug test result upon analysis of his B sample. On August 20th, Pogba, who plays for Juventus, tested positive after Juventus' opening match of the season against Udinese, even though he didn't participate in the game. Subsequently, Italy's national anti-doping tribunal suspended him as a precaution and granted him three days to request his B sample.
In such instances, the maximum suspension duration is four years, consisting of an initial two-year ban, which can be extended if it's proven that the substance was taken intentionally. Given these developments, national team manager Deschamps has indicated that Pogba's return to the Les Bleus squad will be a prolonged process.
During a press conference, Deschamps expressed his sentiments, saying, "Allegri is particularly saddened by Paul's situation, and so am I. Many challenges have come his way recently. He finds himself in a complex situation and will have to go through a lengthy procedure to defend himself."
Deschamps continued, "I won't take a definitive or extreme stance. I can't predict his future; it will require time, even though he hasn't been with us for some time. I hope he can regain his happiness, full capacity, and return to the pitch, but it will be a lengthy process."
Paul Pogba, 30 years old, has earned 91 caps for France's first team, scoring 11 goals and was part of the victorious 2018 World Cup squad.
Mail Sport previously reported that Pogba had requested a counter-analysis following his initial positive test, with the possibility of legal proceedings should a second test yield the same result, potentially leading to dismissal, negotiation, or a tribunal trial, according to Sky.
Pogba's representative, Rafael Pimenta, commented, "We're awaiting the results of the counter-analysis, and until then, we can't comment. What's certain is that Paul Pogba never had any intention of violating the rules."
Reportedly, Pogba did not disclose to anyone at Juventus that he had used a prohibited substance. He plans to test all substances he has used to determine how DHEA entered his system while fighting to clear his name.
Pogba's future with the Italian club remains uncertain, with Juventus prepared to suspend his wages should legal proceedings be initiated following the positive result. If Pogba receives a ban, it could lead to the termination of his contract with the Serie A team.
A prior statement from Juventus confirmed the initial positive test and stated, "Juventus Football Club announces that today, September 11, 2023, footballer Paul Labile Pogba received a precautionary suspension order from the National Anti-Doping Tribunal following the results of tests carried out on August 20, 2023. The club reserves the right to consider the next procedural steps."
Also Read: Tunnel clash erupts: Kyle Walker's heated exchange with Arsenal staff after Man City's loss goes viral - WATCH
Last Updated Oct 10, 2023, 2:27 PM IST