Tunnel clash erupts: Kyle Walker's heated exchange with Arsenal staff after Man City's loss goes viral - WATCH
Tensions flared at Emirates Stadium on Sunday as Kyle Walker confronted an Arsenal staff member in a post-match tunnel altercation following Manchester City's rare defeat.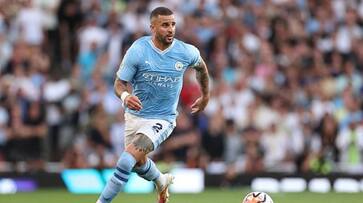 In the aftermath of Arsenal's 1-0 victory over Manchester City in their Premier League clash on Sunday, defender Kyle Walker found himself at the center of a heated tunnel altercation with a member of Arsenal's backroom staff, reportedly due to an apparent handshake snub. Arsenal's triumph marked Manchester City's second consecutive loss, a rare occurrence for Pep Guardiola's team, who hadn't faced back-to-back defeats in five years.
As emotions ran high following the game, Walker and his teammate Erling Haaland confronted a group making their way toward the tunnel area. The incident escalated as Walker appeared to square up to Nicolas Jover, Arsenal's set-piece coach, who had previously worked for Manchester City from 2019 to 2021. The confrontation stemmed from what seemed to be a perceived gesture snub by Walker.
Haaland intervened, attempting to pull his teammate away from the confrontation. Additional staff members and security personnel stepped in to separate the two parties.
The clash occurred after Gabriel Martinelli scored the winning goal for Arsenal in the 86th minute, ending their 12-game losing streak against Manchester City in the league.
Man City boss Pep Guardiola declined to comment on the incident stating, "I know what happened but I won't say anything. They know it." 
Arsenal's manager, Mikel Arteta, stated that he had not witnessed the altercation after the game.
Former Manchester City defender Micah Richards provided his perspective, suggesting that it appeared Walker initially intended to shake hands but hesitated. "It looked like he was going to shake his hand, but Kyle didn't really want to. We're in October, if we were in March or April I could understand the frustration, they probably don't want to go to Arsenal and lose but it's not the end of the world," he said.
Ex-Arsenal winger Theo Walcott said a 'nerve had been hit' in the post-match fracas. "We always look at City and they've been very professional and not reacting in situations. And that's where I feel like a nerve's been hit here, and he's caught it there definitely," he added.
Last Updated Oct 9, 2023, 12:36 PM IST