Arsenal vs PGMOL: Fuming Gunners compile list of decisions gone against them; call for better officiating
The article discusses the ongoing dispute between Arsenal and referee authorities, with the club intending to highlight decisions they believe have gone against them and calling for improved officiating standards.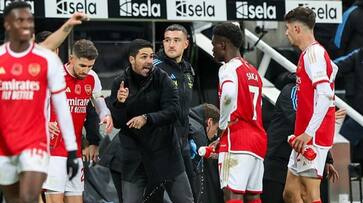 Arsenal and the authorities overseeing referees are locked in a dispute, as the Premier League club reportedly  intends to highlight a series of decisions that they believe have gone against them since the previous season. This is seen as an attempt to establish a recurring pattern of unfavorable calls.
The fallout from Arsenal's 1-0 loss at St James' Park against Newcastle on Saturday has caused tensions. According to a DailyMail report, the club's reaction to the defeat did not sit well with the refereeing community, with the report quoting a source characterizing it as 'over the top'. As a result, a rift has reportedly emerged between the club and the refereeing body. The referees have chosen not to issue a public response to Arsenal's first Premier League defeat this season.
Also read: 'Robbed': Outrage after controversial VAR decision in Newcastle vs Arsenal clash ends Gunners' unbeaten run
Arsenal's manager, Mikel Arteta, expressed his displeasure with Anthony Gordon's winning goal, labeling it 'embarrassing' and a 'disgrace'. Unusually, Arsenal doubled down on their criticism the following day by releasing a club statement. In the statement, they asserted that the loss involved 'yet more unacceptable refereeing and VAR errors'. They also called for better officiating standards and urged the PGMOL (Professional Game Match Officials Limited) to address the issue urgently.
According to the report, insiders within the refereeing body consider Arsenal's reaction to be excessive, emphasizing their ongoing efforts to enhance accuracy under the leadership of Howard Webb. Nevertheless, this recent episode underscores the frustration within Arsenal's senior ranks regarding decisions they believe have been unjust. In their upcoming discussions, Arsenal is expected to reference not only Gordon's goal but also instances from the previous season.
Among these examples are the 1-1 draw against Brentford in February, during which VAR Lee Mason failed to draw the offside lines before Ivan Toney's equalizer, a decision acknowledged by the PGMOL. Another instance is the 3-1 defeat by Manchester United in September of the prior year, when Gabriel Martinelli's opening goal was wrongly disallowed.
Additionally, a more recent case involves Mateo Kovacic of Manchester City, who escaped a red card last month for a challenge on Martin Odegaard. VAR chose to keep it as a yellow card, and a subsequent tackle on Declan Rice also went unpunished.
The controversy surrounding Gordon's goal for Newcastle involved a series of VAR checks that extended for four minutes, yet none were deemed conclusive enough to disallow the goal.
Arsenal is scheduled to face Burnley in the Premier League on Saturday, and they should learn about the officiating team assigned to the match on Tuesday.
Last Updated Nov 7, 2023, 2:26 PM IST