After kidnapping saga, Luis Diaz seals Colombia's win over Brazil with brace; WATCH father's reaction
In an extraordinary display of resilience, Luis Diaz staged a breathtaking comeback, scoring a sensational second-half double to lead Colombia to a stunning 2-1 triumph over Brazil.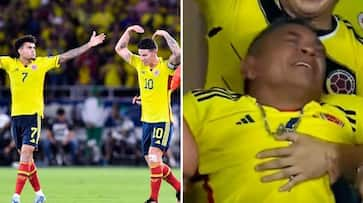 In a dramatic turn of events, Luis Diaz orchestrated a stunning second-half comeback, netting two crucial goals to secure Colombia's 2-1 victory over Brazil on Thursday. This triumph marked the culmination of a tumultuous month for Diaz, whose father endured a harrowing 12-day kidnapping by guerrillas. The Liverpool forward's fairy-tale performance unfolded at Barranquilla's Estadio Metropolitano, where he headed home in the 75th and 79th minutes, delivering a significant win in Colombia's quest for a spot in the 2026 World Cup. Diaz's goals nullified Brazil's opener from Arsenal forward Gabriel Martinelli. Adding to Brazil's woes, Real Madrid star Vinicius Jr exited the match with a thigh injury after just 27 minutes.
In an emotionally charged atmosphere, Luis Manuel Diaz, watching from the stands in a Colombia shirt, witnessed his son's match-winning brace. The reunion between Luis Diaz and his father occurred on Tuesday, following the parent's release last week from captivity by Colombia's ELN guerrilla group.
Reflecting on the challenging moments after learning of his father's kidnapping, Diaz expressed resilience, attributing strength to life's adversities. He dedicated his outstanding performance to the Colombian people, expressing gratitude to teammates and coaching staff who stood by him.
The Premier League star's father, Luis Manuel Diaz, and his wife Cilenis Marulanda were abducted on October 28. While Marulanda was rescued hours later, Diaz Sr was released last week after an extensive search operation. A pivotal figure in his son's football journey, Diaz Sr played a crucial role in establishing the only football academy in Barrancas, setting the stage for Luis Diaz's remarkable ascent to international football stardom.
Also Read: Iconic jersey exchange: David Beckham and Rohit Sharma's memorable moment post the semi final in Wankhede
Last Updated Nov 17, 2023, 5:03 PM IST