Iconic jersey exchange: David Beckham and Rohit Sharma's memorable moment post the semi final in Wankhede
A captivating moment unfolded during the ICC Cricket World Cup semifinal in Mumbai as football legend David Beckham and cricket captain Rohit Sharma engaged in a jersey swap. Beckham, a UNICEF Goodwill Ambassador, shared the picture on Facebook, showcasing the duo wearing each other's jerseys – a Team India jersey for Beckham and Real Madrid's iconic number 23 for the 'Hitman.'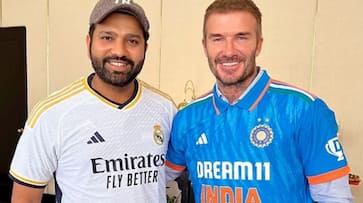 A memorable exchange took place in Mumbai during the ICC Cricket World Cup semifinal between India and New Zealand as cricket captain Rohit Sharma and football legend David Beckham shared a special moment. Beckham, a UNICEF Goodwill Ambassador, posted a picture on Facebook showcasing the duo wearing each other's jerseys – Beckham donning a Team India jersey with Rohit's name and number 45, while the 'Hitman' sported Beckham's Real Madrid number 23 shirt.
Beckham's caption on Facebook read, "Great to meet you captain. Good luck in the final, Rohit Sharma and the Indian Cricket Team."
Rohit Sharma, hailed as one of the best opening batters, boasts an impressive cricket career with numerous records and leadership achievements. With 45 centuries and 100 fifties in 461 international matches, Rohit has played a crucial role in India's success, including leading the team to two Asia Cup titles and guiding Mumbai Indians to five IPL titles.
Beckham, a football icon, represented England and esteemed clubs like Manchester United, Real Madrid, AC Milan, Paris Saint Germain, and LA Galaxy. The UNICEF Goodwill Ambassador watched the India vs New Zealand clash in Mumbai, emphasising the ICC's partnership with UNICEF to promote inclusion, gender equality, and empower women and girls through cricket.
In the high-scoring match, India set a formidable total of 397/4, featuring standout performances from Rohit Sharma, Shubman Gill, Virat Kohli, and Shreyas Iyer. Despite a valiant effort from Daryl Mitchell and Kane Williamson, Mohammed Shami's pivotal two-wicket over and India's disciplined bowling secured a victory, restricting New Zealand to 327 in 48.5 overs.
Mohammed Shami was rightfully awarded the 'Player of the Match' for his outstanding bowling performance.
Also Read: Kane Williamson addresses pitch swap controversy in the World Cup semi-final against India
Last Updated Nov 16, 2023, 8:27 PM IST