Man who drove car into Ranji match pitch arrested, was allegedly drunk
A 30-year-old man has been arrested for driving his car onto the pitch during the Ranji Trophy match between Delhi and Uttar Pradesh
Girish Sharma, who had driven his car onto the pitch, was detained yesterday but was arrested late last night after the police received a formal complaint
The man was allegedly inebriated and was first detained by the Airforce Police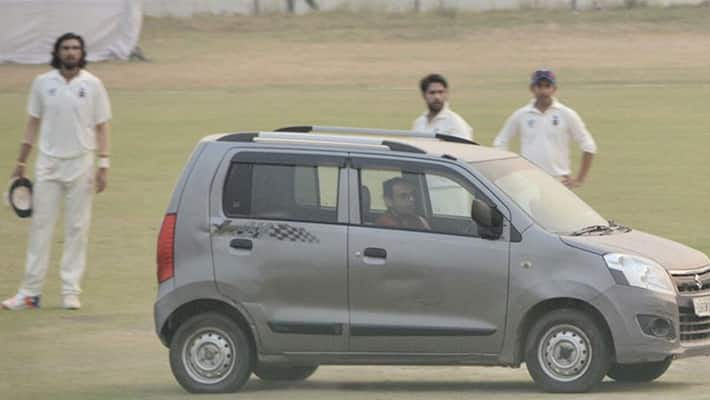 A 30-year-old man has been arrested for driving his car onto the pitch during the Ranji Trophy match between Delhi and Uttar Pradesh at the Airforce ground in Palam yesterday, the police said.
International players like Gautam Gambhir, Ishant Sharma and Rishabh Pant were present on the ground when the incident took place and it could have snowballed into something even more serious amounting to physical danger.
Girish Sharma, who had driven his car onto the pitch, was detained yesterday but was arrested late last night after the police received a formal complaint.
Sharma was arrested after a formal complaint was received from Wing Commander M R Das, who is incharge of the ground. In a medical examination, the doctors declared Sharma to be mentally fit, the police said.
He was charged under section 447 (punishment for criminal trespass, punishable with a maximum term of three months and a fine) of the IPC.
He was later granted bail and handed over to his father. Sharma is a resident of Rohini's Buddh Vihar. He is currently unemployed, the police said. His father works as a consultant with a public sector bank.
At around 4:40 pm, 20 minutes from close of play, a silver grey Wagon R suddenly drove onto the field of play with Uttar Pradesh batting in their second innings yesterday.
Sharma tried to swerve his car twice on the 22-yard strip before he was stopped.
It was learnt that the main gate of the Airforce ground, which only allows entry of cars after proper checking, remained open with the security personnel not in his position.
This allowed the man free access inside the complex instead of moving towards the designated parking lot, which is behind the main pavilion. He took a detour entering from the
Palam B complex into the field of play and took a couple of rounds of the pitch before trying to leave the ground.
The security personnel at the ground swung into action after this and closed the gate to stop the man from fleeing.
The allegedly inebriated man was first detained by the Airforce Police before being handed over to the Delhi Police for interrogation.
Last Updated Mar 31, 2018, 6:45 PM IST