'Does POCSO, immediate arrest not apply to Brij Bhushan as votes matter not women wrestlers': Sibal flays govt
Indian wrestlers have been protesting against WFI chief Brij Bhushan Sharan Singh for over a month. Meanwhile, BJP MP Kapil Sibal has questioned the PSCSO act and why the immediate arrest was not applicable for Brij Bhushan Sharan Singh.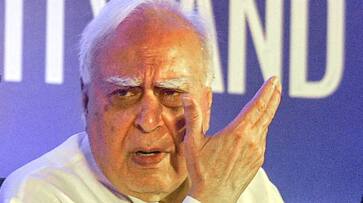 Rajya Sabha MP Kapil Sibal on Wednesday slammed the government over the issue of allegations of sexual harassment levelled by women wrestlers against Wrestling Federation of India (WFI) president Brij Bhushan Sharan Singh and asked whether Protection of Children from Sexual Offences (POCSO) and immediate arrest apply to all accused other than Singh because he belongs to the BJP.
The attack by Sibal, a senior advocate who represented the protesting wrestlers in the Supreme Court, came a day after the matter escalated as the wrestlers reached Haridwar on the banks of the Ganga, threatening to immerse their World and Olympic medals in the holy river but stopped short of doing so after being convinced by farmer leaders who sought five days to address their grievances.
ALSO READ: UWW condemns protesting wrestlers' detention, warns WFI of ban if elections not held in time
Olympic medallists Sakshi Malik, Bajrang Punia and Asian Games gold medallist Vinesh Phogat arrived at Har ki Pauri to protest the inaction against WFI chief Singh, who has allegedly sexually harassed several women grapplers. In a tweet, Sibal said, "Brij Bhushan Singh: Does the application of POCSO and immediate arrest after 164 statements apply to all accused other than Brij Bhushan because he: 1) Belongs to BJP 2) iconic women wrestlers don't matter; votes matter! 3) Government doesn't care. Is this my new India," Sibal asked.
Sibal, who was a Union minister during the UPA 1 and UPA 2 governments, quit the Congress in May last year and was elected to the Rajya Sabha as an Independent member with the Samajwadi Party's support. He recently floated the non-electoral platform 'Insaaf', aimed at fighting injustice. Last month, the Delhi Police registered two FIRs against Singh.
ALSO READ: 'MINOR' GIRL'S UNCLE CLAIMS PROTESTING WRESTLERS MISLEADING HIS FAMILY, USING THEM TO FRAME WFI CHIEF
The first FIR pertains to allegations levelled by a minor which has been registered under the POCSO Act along with relevant sections of the Indian Penal Code concerning outraging modesty. The second one has been registered over complaints by adults about outraging modesty. On May 28, the Delhi Police detained Malik along with world championships bronze winner Vinesh and Olympic medallist Bajrang and later filed FIRs against the wrestlers for violation of law and order.
Last Updated May 31, 2023, 1:13 PM IST