'Best is yet to come': Neeraj Chopra aims for 90m mark, highlights technique enhancement for Paris Olympics
Javelin champion Neeraj Chopra expresses his quest for performance enhancement, citing technique refinement and a pursuit to breach the 90m mark, hinting at Paris Olympics 2024 preparation and training modifications.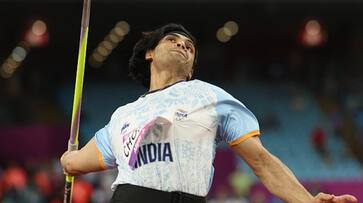 Olympic and world champion javelin thrower Neeraj Chopra on Tuesday emphasized his untapped potential, expressing his confidence in surpassing the 90m mark next year by refining his technique, particularly concerning leg-blocking. At a promotional event, the 25-year-old, who clinched gold in the Tokyo Olympics and recently defended his Asian Games title in Hangzhou, asserted that his best performances are yet to be realized. Despite achieving remarkable results, he believes he has not approached his optimal performance level in competitions for an extended period.
"I want to say this very clearly that my best is yet to come. I have not felt in a competition for a long time that I have done my best or done near my best," the 25-year-old Chopra said at a promotional event in New Delhi. 
"6 cm is left to be achieved. It was 89.94m at Stockholm Diamond League (in June 2022). I was a bit behind the line that time. Had I thrown my javelin by moving a bit ahead, it would have been 90m," said Chopra at the event announcing his association with top supplements brand 'Optimum Nutrition'.
While acknowledging his proficiency in arm speed and flexibility, which contributed to his victories, he highlighted the importance of refining his leg-blocking technique. 
"My coach always says that it 60 per cent legs and 40 per cent upper body. So leg work is very important. I have to do a lot of improvement in leg work," said the superstar javelin thrower.
"I do a lot of things good. My flexibility is quite good, but personally I feel because of my arm speed, I am doing very well. Next year, I feel I will improve on my technique, will work more on my strength and flexibility. If everything is all right, 100 per cent fit and my groin is all right, I will do very well in Paris Olympics," he added.
Reflecting on his recent Asian Games victory, Chopra recognized that his technique, particularly legwork, was not at its peak during the event. He admitted that his leg positioning and block weren't as optimal as he desired, but he emphasized that his arm's exceptional performance compensated for the technical shortcomings.
"My technique was not going well during Hangzhou Asian Games. My legwork was not that good, my blocking leg was bending. It was not that great but the important thing was that my arm was giving very good throw, my arm speed was very good," Chopra stated.
Regarding his preparations for the upcoming Paris Olympics, he hinted at implementing different training strategies, insinuating that his approach would be altered without providing explicit details. Chopra remains optimistic about his potential for future achievements, focusing on refining his technique and physical readiness for the upcoming events while aspiring to unleash his full capabilities in the Paris Olympics 2024.
Last Updated Oct 31, 2023, 4:53 PM IST