Bengaluru Open ATP Challenger: India's Saketh Myneni, Prajnesh Gunneswaran enter semis
Saketh Myneni will clash with Aleksandr Nedovyesov of Kazakhstan who was a 6-4, 6-2 winner over Frederico Ferreira Silva of Portugal, in the first semi-final while Prajnesh Gunneswaran will meet Canadian Brayden Schnur in the other semi-final. Schnur defeated Cem Ilkel of Turkey 6-3, 6-4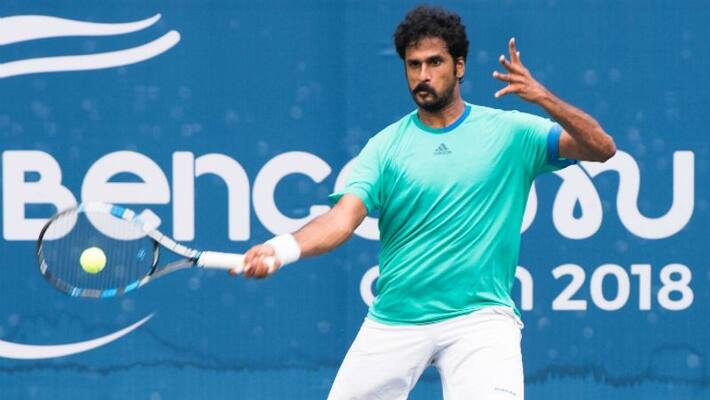 Bengaluru: India's Saketh Myneni, a wild card entrant disposed of defending champion Sumit Nagal's challenge in straight sets 6-4, 6-4 to reach the semi-finals of the $ 150,000 Bengaluru Open ATP Challenger at the KSLTA here on Thursday (November 15).
Joining him was fourth seed Prajnesh Gunneswaran who did not have to break a sweat as his hard working opponent Sasi Kumar Mukund had to withdraw owing to a severe back pain.
Saketh will clash with Aleksandr Nedovyesov of Kazakhstan who was a 6-4, 6-2 winner over Frederico Ferreira Silva of Portugal, in the first semi-final while Prajnesh will meet Canadian Brayden Schnur in the other semi-final. Schnur defeated Cem Ilkel of Turkey 6-3, 6-4.
Also read: Four Indians in Bengaluru Open quarter-finals
Mukund who served only thrice, but without the regular jump, lost all three points before pulling out writhing in pain.
"It was at the fag end of my warm up that the pain showed up from somewhere and I could not walk anymore with pain shooting in my lower back," said Mukund who had displayed a good performance thus far.
"I feel very bad tor the school kids who came to watch with enthusiasm and it had to end like this. Although it is not my fault but I still will not be able to forgive myself for that," said the 21-year-old.
 In the Saketh-Sumit match, the former tested his experience while Sumit was as aggressive as ever. Playing long and deep shots, the 31-year-old Saketh seemed to conserve and, at times, caught his opponent on the wrong foot.
With a break in the very first game, Saketh who is currently ranked 213, took the first set 6-4 as both of them held on to their respective serves.
The second set saw both the rivals swerving on their serves, owing to an extra bit of a wind. The set took a different pattern from the fifth game, where the Delhiite, with two game points up, lost his serve.
The serves were broken for the next four games as well. Sumit lost his serve in the seventh and ninth games because of double faults while Saketh was broken in the sixth and eighth games, thanks to unforced errors. Finally, Saketh kept the ball in play when it mattered and closed out the set and match 6-4, 6-4.
"I know that he (Sumit) is an aggressive player. I know him off the court as well. And considering the conditions, I was serving well for the first set and half and then things changed a bit. However, I was very much in control," said Saketh.
"It is unfortunate that two Indians played in the same match. I hate this when this happens as we should be playing against the world and not each other," said Saketh.
"I am not thinking of any plans for the future. I would go week by week and this week is priority for me as I need to gauge my fitness levels before I decide on playing," he added.
Commenting on the depth of talent in Indian tennis, Saketh said: "It is great that four Indians had reached the quarterfinal stage of the one of the biggest ATP Challengers. We have the backing of home crowd and a chance to earn so many points. We should have more of these."
Results (Quarter-finals) (Prefix denotes seeding)
4-Prajnesh Gunneswaran (IND) w/o Q-Sasi Kumar Mukund (IND)
WC-Saketh Myneni (IND) bt WC-Sumit Nagal (IND) 6-4, 6-4
Aleksandr Nedovyesov (KAZ) bt Frederico Ferreira Silva (POR) 6-4, 6-2
Brayden Schnur (CAN) bt Cem Ilkel (TUR) 6-3, 6-4
Doubles (Semi-finals)
Max Purcell (AUS)/Luke Seville (AUS) bt Cheng-Peng Hsieh (TPE) / Tsung-Hua Yang (TPE) 6-3, 6-4
Friday's matches
Men's singles semi-finals
Prajnesh vs Brayden
Saketh vs Nedovyesov
Last Updated Nov 15, 2018, 6:50 PM IST