Asian Para Games 2023: Deepthi Jeevanji clinches gold for India in Women's 400m-T20 (WATCH)
Deepthi Jeevanji clinches another gold for India in the Women's 400m-T20, setting a new Asian Para Record and Games Record with a blazing time of 56.69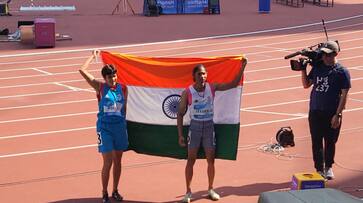 The gold rush for India at the ongoing 4th Asian Para Games continued with Deepthi Jeevanji achieving gold in the women's 400m-T20 event, setting a new Asian Para Games record and an Asian Para record on Tuesday.
Deepthi Jeevanji, displaying outstanding performance with a record time of 56.69 seconds, secured the top spot on the podium, outshining Thailand's Orawan Kaising, who achieved her personal best time of 59.00 seconds, settling for the silver. Japan's Niina Kanno clinched the bronze medal with a personal best time of 59.73 seconds.
In the men's 400m-T64 final, Ajay Kumar gave his personal best timing of 54.85 seconds, earning a well-deserved silver medal. Saudi Arabia's Nour Mohammed made history by breaking the Asian Para record with a remarkable time of 52.81 seconds. Thailand's Jafa Seapla claimed the bronze with a timing of 55.09 seconds.
Earlier in the day, Manish Kaurav secured a bronze medal in the Canoe Men's KL3 Final event, marking India's medal count on Day 2. Manish clocked 44.605 seconds, narrowly missing the gold by only 2.347 seconds. Uzbekistan's Khasan Kuldashev claimed the gold medal with a timing of 42.258 seconds, while Kazakhstan's Zhalgas Taikenov settled for silver with a timing of 44.605 seconds.
Prachi Yadav of India achieved gold in the Canoe Women's KL2 event on Day 2 after securing silver on Day 1 in the Women's VL2 final.
India's strong performance aims to replicate the success of Day 1, where the contingent secured an impressive 17 medals, including 6 gold, 6 silver, and 5 bronze.
This year, India has sent a record 303 athletes, comprising 191 men and 112 women, to the fourth edition of the Asian Para Games, marking the largest-ever contingent for this continental event.
In the 2018 Asian Para Games, India sent 190 athletes and returned with an impressive haul of 72 medals, including 15 gold, marking their best performance at the quadrennial event.
Last Updated Oct 24, 2023, 10:13 AM IST