Asian Games 2023: Shooter Anant Jeet Singh Naruka wins silver medal in men's skeet event
Indian shooter Anant Jeet Singh Naruka claimed a silver medal after scoring 58 out of 60 shots in the men's skeet finals at the Asian Games 2023 in Hangzhou, China, on Wednesday.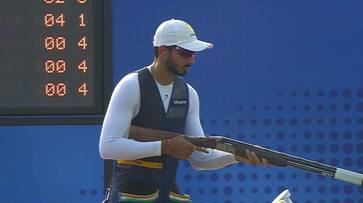 Indian shooter Anant Jeet Singh Naruka had a remarkable performance at the Asian Games 2023 in Hangzhou, China, as he secured the silver medal in the men's skeet event on Wednesday. Naruka's exceptional display added to his earlier success, where he was part of the team that won the gold medal alongside Angad Vir Singh Bajwa and Gurjoat Khangura.
With this feat, India's tally of medals in shooting goes up to 12 and overall tally stands at 22, which includes 5 gold, 7 silver and 10 bronze.
Throughout the event, Naruka displayed excellent form and was poised for gold, having not missed a single shot until the crucial final rounds. His last round saw a perfect score of 10/10, concluding his event with an impressive 58/60. However, despite his outstanding performance, Naruka had to settle for silver, as Kuwait's 60-year-old Abdullah Alrashidi equaled the world record with a flawless 60/60 score, securing the top spot on the podium. Qatar's Nasser Al-Attiya claimed the bronze with a score of 46.
In the team competition, the trio of Naruka, Bajwa, and Khangura combined their efforts to shoot a total of 355, securing the team bronze. China clinched the gold medal in this category, while Qatar claimed silver.
In contrast, the Indian women's team faced a challenging competition in the shotgun skeet event and concluded their campaign in the fourth position. Kazakhstan, China, and Thailand secured the podium positions in this event, leaving the Indian women's team just outside the medals.
Naruka's silver medal win is yet another testament to India's growing prowess in shooting sports on the international stage. His impressive performance, coupled with the team's bronze, adds to India's medal tally at the Asian Games, highlighting the nation's talent and dedication in the field of shooting.
Last Updated Sep 27, 2023, 2:45 PM IST