Asian Games 2023: India beat Pakistan in men's team squash final to win historic gold medal
The Indian men's squash team achieved a monumental victory in the final against Pakistan, clinching the highly coveted gold medal in the Asian Games 2023.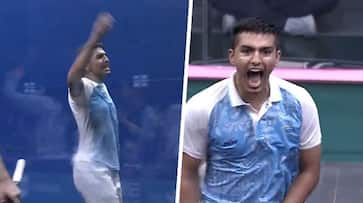 In a historic moment at the Asian Games 2023, the Indian men's team triumphed over Pakistan in the final of the squash event, securing a coveted gold medal. This remarkable victory showcased India's prowess in squash and added a significant achievement to their Asian Games campaign.
The Indian team delivered an exceptional performance, securing a historic gold medal in the men's squash team event by defeating Pakistan in the Asian Games 2023 final. This victory marked India's first gold in this category in nine years, with their previous triumph dating back to the 2014 Asian Games. Saurav Ghosal, Mahesh Mangaonkar, and Abhay Singh formed a formidable team that faced a daunting task against Pakistan, who had previously bested them in the competition. However, the Indian players displayed remarkable resilience, staging a memorable comeback.
Also Read: Asian Games 2023: Mirabai Chanu's journey ends in heartbreak; Finishes on the 4th place
In the initial match of the final, Mahesh Mangaonkar confronted Iqbal Nasir. Despite his valiant effort, the challenge proved formidable, resulting in a 0-3 defeat (8-11, 3-11, 2-11), granting Pakistan an early advantage.
Nonetheless, the lead was short-lived as Saurav Ghosal swiftly leveled the contest with a victory over Muhammad Asim. The seasoned squash player, initially trailing 1-5 in the first game, mounted a strong comeback, securing ten consecutive points for a 3-0 triumph (11-5, 11-1, 11-3), setting the stage for an exciting final showdown.
In the decisive match, Abhay Singh faced off against Noor Zaman, presenting a tough challenge for the young talent. The contest unfolded as a closely fought battle, with Abhay exhibiting unwavering determination to stage a comeback and ultimately clinch the victory 3-2 (11-7, 9-11, 7-11, 11-9, 12-10).
Last Updated Sep 30, 2023, 4:36 PM IST