Aanchal Thakur Exclusive: 'Gulmarg has the best infrastructure in the country for winter sports'
Aanchal Thakur is one of the fast-rising skiers of India. She has represented the country and the world stage, including the Youth Winter Olympics. At the same time, she produced gold medal-winning performances during the recent Khelo India Youth Winter Games in Kashmir.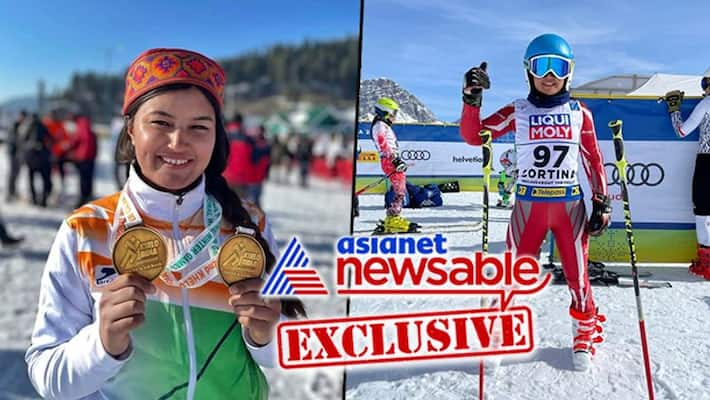 Aanchal Thakur, one of the fast-rising skiers of India, has represented the country on the world stage, including the Youth Winter Olympics. More recently, she produced gold medal-winning performances during the recent Khelo India Youth Winter Games in Kashmir.
The Manali-based alpine skier has evolved in leaps and bounds. 
Aanchal spoke exclusively to Asianet Newsable's Ayush Gupta.
How are you feeling after your gold medal-winning performance in Khelo India Winter Games this year? 
It was an excellent performance considering that this was the first time I participated in the event after missing out last year. Since I was participating in the World Ski Championships, I had to travel directly to Gulmarg, which was a hectic journey. Nonetheless, I maintained my determination.
After I saw the slopes in Gulmarg, I felt that the region has the best infrastructure in the country for winter sports. Some areas in the country lack facilities like a chairlift and don't have the instruments to make the ice compact. So, Gulmarg was above par. And if we keep having more events and tournaments here, we will perform even better.
Competition wise, it was a great experience. While the slopes were suitable, the temperature was slightly high, leading to the snow getting a little moist. Nonetheless, the other arrangements were perfect. The weather was rough initially, as our races kept getting postponed. I also feared cancellation at a point. Nevertheless, during the last two days of the event, the races were ultimately conducted, a grand gesture by the organisers, as races are usually not held on the days of ceremonies.
"
How important is a platform like Khelo India, especially for youth athletes?
It is a great platform. When it comes to winter sports, it is something that the North Indians essentially know. Also, initially, Khelo India was about summer games. However, ever since winter sports was introduced, every part of the nation is now aware of it. Thanks to the media nowadays, South India athletes too are venturing to the north to take part in these winter sports and train their kids about skiing. Even this time, we saw athletes from Odisha and West Bengal who were highly interested in these sports. Thus, Khelo India has helped to inspire a lot of athletes.
How can winter sports be made better in India? Which are the areas that need improvements?
Primarily, I feel infrastructure is currently the most significant challenge faced by any winter sports athlete in the country. I have been practising skiing since I was five years old. At the age of 24, I see that there has hardly been any major development.
We had been hiking on foot since childhood. We continue to do so even today. As a result, our training period is shortened. While we should be using our energy going downhill during skiing, most of it is wasted on hiking uphill. The same is also the case in some of the national championships, as we hike on our own.
Also for training when we go to Europe, it is so expensive that we can't afford it for more than a month or two. But if the government supports us by developing skiing resorts in Jammu and Kashmir and Uttarakhand, along with proper coaches from Europe and decent technical programs, I don't think we would need to travel to Europe for appropriate training. Furthermore, even kids would benefit from these, as the government can't afford to send every kid to Europe.
Tell us about your World Championships outing.
In that, I took part in two races. My foremost challenge was that I went there without any proper training as I could not train overseas due to the COVID lockdowns and restrictions on travel. Although we have coaches in India, they are not at the same level as those who can help us win World Championships.
During my first race in the Giant Salom, I was on an icy slope. Also, the equipment we use is pretty expensive, and we can't afford it every time. Plus, the equipment specifications keep changing every few years, as per the International Ski Federation. The skies that I possessed were relatively old, leading to my race in Giant Salom being unsatisfactory.
As for the next day, I used my brand new skies that I had brought along. My performance somewhat improved with that and my family members were happy as well because I had very little training. Nonetheless, I aimed to complete the race somehow.
"
What was the biggest lesson you learnt from the championships?
The biggest lesson I learned is that you can't just keep dreaming about winning medals in the world championships without proper training. If you don't do what is needed to perform, you won't be able to achieve. Despite adequate training, I'm trying to do the best I can at my level.
How did you train during the lockdown? Which areas did you focus upon mainly?
During the lockdown, I primarily focused on my physical strength. I used to perform cycling and roller skates, including the special conditional training, which is essential for skiing.
What are your future plans now? How are you preparing for the 2022 Beijing Winter Olympics?
Besides my physical training, I am continuing my on-slope training. Whenever there is a snowfall in Manali, I hardly miss out on training every single day. Also, I would request the government to send me outside India for training to perform well in the five qualifying races before the Olympics. They can also provide me with a better coach here in India, which would really aid other kids and me in aiming for the Olympics.
How are your present coach and family supporting you?
My present coach is my family. Mainly my father, brother and cousin, who have been doing so since my childhood. Whenever there is snowfall, they have coached me on it. Meanwhile, my brother and cousin are Olympians. So I primarily work under their guidance. But as I said, to aim higher, the government should provide us with better coaches.
Has skiing always been your first career choice? 
It has always been skiing. My family has always been passionate about it, even more than me. My father is also a former national champion. So even he always gave priority to my skiing.
Also, once when I was to appear for my higher secondary exams, the junior national games were being conducted back then. So my father asked me to decide if I wanted to go with exams or nationals. He asked again if I would be willing to repeat Class 12. I said yes and I participated in the nationals, where I won the gold medal.
Where do you see winter sports in India a few years from now?
Right now, I can see the Himalayas in front of me. Totally covered in snow (laughs). Meanwhile, the Himachal Pradesh government has made many promises of providing us with some skiing resorts on these Himalayan mountains to train the kids. If there is one such resort, athletes from over the world will come to train here.
The winter sports environment will also be built in the coming years, just like the one we currently have in India for cricket. Therefore, I believe that winter sports will be as popular as cricket in the country and outside India.
Any message to the budding young winter sports athletes of the country?
People who haven't really tried skiing by now, or those who want to try this sport out, or even those who think it is a dangerous sport, I would like to say that it all depends on your mindset. 
Once you create a proper perspective and stay fearless, you can do anything. All you need to have is the drive/will/passion for playing the sport and loving it. And, if you love what you do, you are bound to attain success.
Also, my aim is not just to represent India in the Olympics but also to take winter sports ahead in the country so that kids don't complain of lack of infrastructure, equipment or training. If that ever happens, I would feel that I have really done something.
Last Updated Mar 11, 2021, 11:06 AM IST