80th consecutive week as doubles No. 1: History for Sania Mirza
Sania now holds the sole ownership of WTA doubles No. 1 rank.
She stands fourth overall in terms of most number of consecutive weeks as No. 1.
Her stint as World No. 1 began in 2014.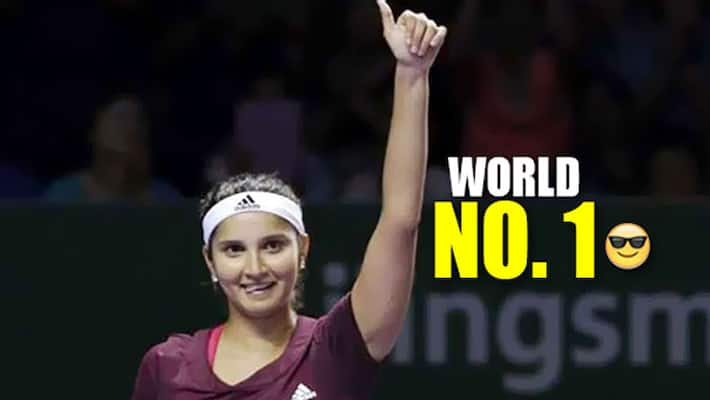 Sania's stands fourth overall after legends Martina Navratilova, Cara Black and Liezel Huber regarding holding the pole position for the most number of consecutive weeks.
| | | |
| --- | --- | --- |
| Name | Country | Weeks |
| Martina Navratilova | USA | 181 |
| Cara Black | Zimbabwe | 145 |
| Liezel Huber | USA | 134 |
| Sania Mirza | India | 80 |
The 29-year-old became the first Indian woman to hold World No. 1 ranking last season after winning the Volvo Car Open in Charleston with her former partner Martina Hingis. The other Indian tennis players who have the milestone on their CV are Leander Paes and Mahesh Bhupati.
While Bhupati was World No. 1 for just four weeks, Paes who still continues to conquer World tennis at the age of 43, held the rank for 39 consecutive weeks in 1999.
Sania's achievement comes as a huge boost for Indian sportswomen who still aren't given equal grounds as the opposite sex in the country.
"You have to believe that as a woman and as a girl you are not a weakness; you're a strength," Mirza said after winning in Charleston last year.
"Anything is possible. If you put your mind, sacrifices and hard work to it, anything is possible, no matter where you're from. It doesn't matter even if you've grown up playing on courts made of cow dung. And I think for me that's women empowerment, and I hope that we get there one day where women believe that anything is possible," she had added.
Today I complete 80 consecutive weeks as the number 1 player in d world👆its been an amazing journey and just inspires me to work harder @WTA pic.twitter.com/BsHoeU0YAT

— Sania Mirza (@MirzaSania) October 18, 2016
Sania's journey to World No. 1 began back in 2014 when she partnered Zimbabwe's Cara Black. The duo had made to the semi-finals or better at 10 out of their 22 events and closed the season by winning 14 out of the 16 finals they had played.
The successful pair had to part ways because Cara decided to give more time to her family.
The legendary Martina Hingis came Sania's way, and the two immediately clicked as a doubles team. They won first 14 matches together. With that 14th win, a 6-0, 6-4 win at the Charleston final, Sania turned her lifelong dream into reality - World No. 1 WTA player - Sania Mirza!
Once again it was time for Sania to look for another doubles partner. The duo ended the partnership this summer and saw themselves against each other in the very next tournament, Cincinnati Open.
If Sania and her partner, Barbora Strycova won, the Indian would hold on to No.1. If Martina and her partner CoCo Vandeweghe won, it would be Martina with the World No. 1 rank.
Eventually, it was the 'Hyderabadi' girl who held nerves to have her hands on the sole ownership of the WTA's World No. 1 rank in doubles.
"I think as tennis players it means a lot to us. Imagine being No. 1 at what you do on the whole planet. I've had that privilege for the last year and a half. We all want to be No. 1. It's the thing as an athlete you dream as a child - to be No.1 in the world is the most amazing thing," Sania said after the win.
Her partners came and went, but the determination in Sania endured. She had one goal - making India proud - which she continues to do so.
Last Updated Mar 31, 2018, 6:40 PM IST