In a 24-year career, Tendulkar has set incredible records that include the 'most runs scored in international cricket', 'most centuries in international cricket', and 'most Man-of-the-Match awards', besides many, many more. He has inspired an entire generation of cricketers and won the admiration of his colleagues and the sport's erstwhile icons. Today, on Sachin's 45th birthday, we look at what the world has had to say about its most celebrated sportsman.

Legendary India cricketer Sachin Tendulkar broke every batting record on his way to greatness during an illustrious career, which spanned over 24 years on the international arena. Perhaps the complete batsman to ever grace the game, who remained in his prime longer than most cricketers have in their career in the sport. From scoring most runs in the two formats (ODI and Test), the master blaster also holds the record for most centuries in the game. 
Here are a few words from great Legends which prove why he is called the "God of Cricket".
1. Harsha Bhogle said, "If Sachin bats well, India sleeps well".
2. Australian all-rounder Andrew Symonds, on a t-shirt he autographed for the Little Master - "To Sachin, the man we all want to be".
3. The former Kiwi captain Vettori, after watching Sachin for all those years - "He has been in form longer than some of our guys have been alive".
4. Words by the cricket legend Sir Viv Richards - "I didn't see Don. But to me, in all the years associated with the game, I haven't seen a better batsman than Sachin Tendulkar".
5. The ex-South Africa captain shares his experience of playing against Tendulkar, "I had to remind Gary Kristen often that he was in the covers to field against Sachin, not to applaud him".
6. These were the words from a true gentleman of the game, Steve Waugh to another - "There is no shame in losing to such a great player".
7. The ex-Australia captain, Mark Taylor, after Sachin's amazing performance in Sharjah - "We did not lose to team called India. We lost to a man called Sachin".
8. A fan placard at the Sydney Cricket Ground said, "Commit all your crimes when Sachin is batting. They will go unnoticed for even the Lord is busy watching him".
9. This one came from across the border, by the best bowler of his era, Wasim Akram - "Cricketers like Sachin come once in a lifetime and am privileged he played in my time".
10. India's best spinner Kumble says how lucky he was - "I am fortunate that I have to bowl at him only in the nets".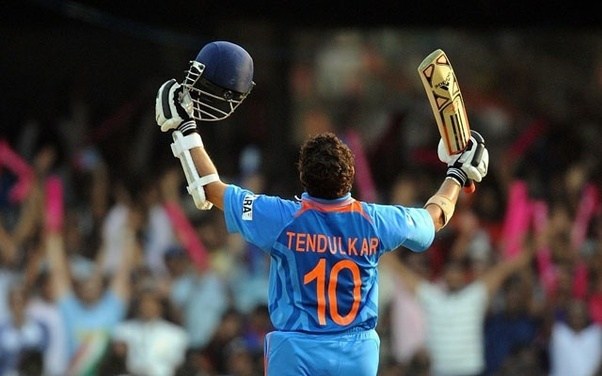 11. The South African batsman, Hasim Amla explains why Sachin is God - "Nothing will happen to us if we are on a plane in India with Sachin Tendulkar on it".
12. Virat said, "Tendulkar has carried the burden of the nation for 21 years. It is time we carried him on our shoulders".
13. Rudy Koertzen once said, "I never get tired during umpiring whenever Sachin is at the crease".
14. BBC couldn't nail it better than this - "Beneath the helmet, under that unruly curly hair, inside the cranium, there is something we don't know, something beyond scientific measure, something that allows him to soar, to roam a territory of sport that, forget us, even those who are gifted enough to play alongside him cannot even fathom. When he goes out to bat, people switch on their television sets and switch off their lives".
15. Big words from the big Aussie Matthew Hayden - "I have seen God. He bats for India at number 4 in Tests".
16. Words from a 70-year-old English journalist, John Woodcock in 1992 - "Gentlemen, he is the best batsman I have seen in my life. And unlike most of you, I have seen Bradman bat".
17. Harsha Bhogle goes again, "You were a great habit Sachin".
18. "Sachin Tendulkar has often reminded me of a veteran army colonel who has many medals on his chest to show how he has conquered bowlers all over the world." — Allan Donald
19. "I think he is marvellous. I think he will fit in whatever category of cricket that has been played or will be played, from the first ball that has ever been bowled to the last ball that's going to be. He can play in any era and at any level. I would say he's 99.5% perfect." — Sir Vivian Richards
20. "I don't think anyone, apart from Don Bradman, is in the same class as Sachin Tendulkar." —Shane Warne
Last Updated 24, Apr 2018, 12:15 PM IST