Shocking! Kerala police brutally tortures Dalit youths
The youths alleged custodial torture at the hands of Kollam police
The cops neither registered a case nor produced the men before the court for five days.
The men were kept in illegal detention all these days.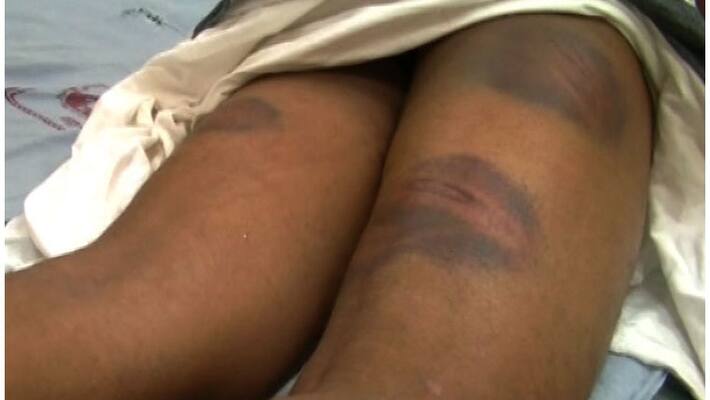 In a shocking case of police brutality, two Dalit youths who were taken into custody in connection with a robbery case were beaten black and blue continuously for five days at different police stations in Kollam. The police allegedly inserted bamboo sticks between their nails and put clips on their genitals to force them to confess the crime. 
The victims identified as Rajeev,32, and Shibu, 36, are undergoing treatment in Govt. District Hospital at Kollam. The victims said that they were taken into custody on October 16 and brought to Anjalumoodu Police Station and later taken to Kollam West Police Station for interrogation. They were subjected to continuous torture for five days. The police detained them following complaints that Rs. 1,85,000 were stolen from the company they worked with.
 
Also read: Kerala Minister insults tribal mothers in Assembly as legislators cheer on
Giving an account of their horrific ordeal, the duo said that they underwent third-degree torture at the hands of policemen, who inserted small sharp bamboo sticks between nails and put clips on their genitals. The youths alleged that the police denied them food all these days while there were no dearth of brutalities.  
Though some politicians tried to intervene in the incident, the police did not heed to their request to free the youths.
Making a mockery of the legal system, the police did not register any case against the youths. They also failed to produce them before the magistrate when the law clearly mandates that a person in detention should be produced before the nearest magistrate within 24 hours.
The men were released from custody on Thursday and are currently under treatment at Kollam district hospital.  Meanwhile, police have confessed that the men were in fact taken into custody following a complaint. But the officials did not respond to the allegations of torture. 
Last Updated Mar 31, 2018, 6:34 PM IST