Meet Babiya, God's own (vegan) crocodile
The 1000-year-old temple is believed to be guarrded by a crocodile
The reptile present in temple pond is fondly called as Babiya
The priest would call by the name and the crocodile would come out of his hiding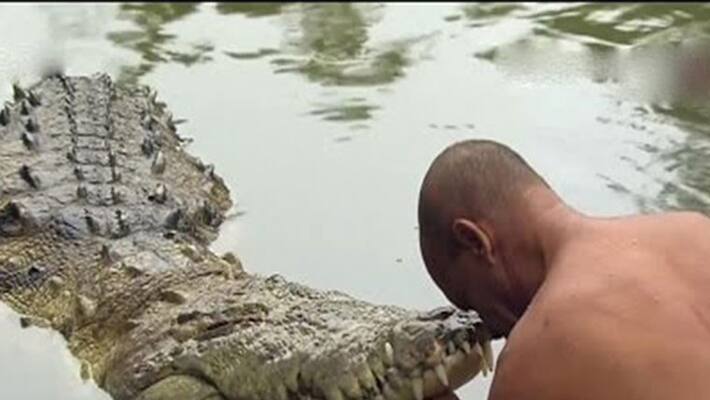 Believe it or not, it's a 'vegetarian' crocodile that guards a temple in northern Kerala.
 
Yes, you heard it right.
 
The crocodile eats only temple prasad and has been guarding the place for more than 70 years. 
 
The 1000-year-old Ananthapura Mahavishnu Lake Temple in Kasargod is considered as the moolasthanam (original source) of world renowned Sri Anantha Padmanabha Swami Temple in Thiruvananthapuram. Crocodile Babiya considers the temple pond his abode.
Babiya is friendly and has never harmed anyone, testify locals.
 
 Though the pond floods during monsoon, Babiya never goes anywhere. 
 
Surprisingly, it does not even feed on the fishes in the pond and only accepts the offerings made by devotees, that too fruits and vegetables. Every day, after uchapooja (poojas at noon) the temple priest, would go to the pond and call the reptile by name. Babiya would heed the call and crawl to a stone by the pond. The priest would feed him the offering, a gruel made of rice and jaggery, by putting the prasad in its mouth. 
 
Legend is that, at a time, only one crocodile lives in the temple and if it dies another one emerges. 
 
There is a story about Babiya's arrival to the pond. Sometime in 1945, a British soldier shot the crocodile, local lore says. In a few days, the soldier died after a snake bite and on the next day another crocodile appeared in the pond from nowhere as there are no other rivers or lakes nearby. 
 
Only those who are fortunate will get a chance to see Babiya! An interesting temple. Right?
 
Last Updated Mar 31, 2018, 6:43 PM IST