Record 2,000 wins and counting: Bengaluru jockey Suraj Narredu wants to continue riding on victorious path
Suraj Narredu had posted his maiden win astride Anjaam in 2002. Since then, he has been impressive wherever he has ridden and has now completed 2,000 wins. So far, he has won 66 classic races including 15 derbies and 2 Indian derbies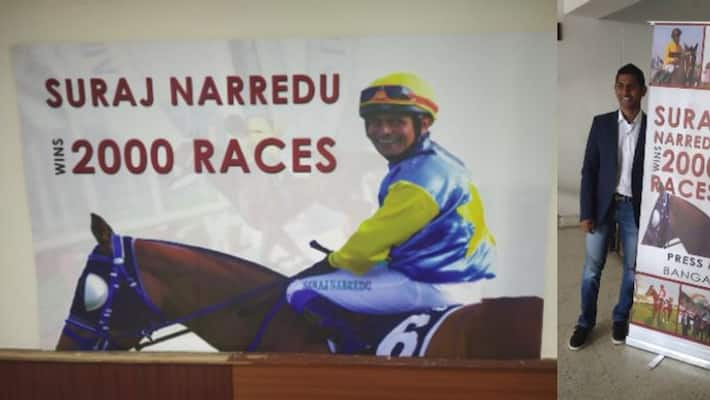 Bengaluru: Jockey Suraj Narredu has entered an elite club. The Bengalurean is only the second Indian jockey to win a whopping 2,000 races. His passion for horse racing keeps him going and the 34-year-old wants to achieve more.
Family members, friends and well-wishers gathered in Bengaluru to celebrate Suraj's success in the presence of the media. It was a memorable day for the Narredu family, which has been into the sport for many years.
"I am very excited and happy to have reached this milestone. It is a sense of satisfaction in some way that all the hard work and sacrifice has paid off," Suraj said at a press conference in Bengaluru on Wednesday (December 11).
Suraj's father Satish, who had won more than 1,000 races and is now a trainer, said he is proud of his son's achievements and wished him to complete 3,000 wins.
Suraj had posted his maiden win astride Anjaam in 2002. Since then, he has been impressive wherever he has ridden. So far, he has won 66 classic races including 15 derbies and 2 Indian derbies.
From being passionate about horse racing since his childhood, Suraj's 2,000th win arrived in Hyderabad on Monday (December 9) as he rode home Guiding Force for the landmark victory.
Moments like these don't come too often in an athlete's career n it is overwhelming to say the least! I thnk every single supporter,fan from d bottom of my heart! Racing has been kind,memorable and inspirational for me! Personal responses to all my family,friends n fans 2 follow!

— Suraj Narredu (@Surajsn1) December 9, 2019
Also, Suraj is the only Indian to have won a Grade 2 race abroad. "It is a result of the hard work and sacrifices I made. I am proud to put Indian racing and Jockeys Association of India (JAI) on the international map," said Suraj on the feat of winning Grade 2 race.
On his career, Suraj remarked, "The journey has been pretty good. I have had my share of ups and downs. But every time I was down, I came back stronger and have learnt from the experiences."
Suraj is not finished yet. He wants to collect more trophies. "I want to continue to work hard and ride as many as winners as possible and look at a longer stint anywhere abroad."
On queried about the best horse he has ridden so far in his illustrious career, he said, "Be Safe is the best horse I have ridden. He is my favourite because he won me my first Bangalore Derby on my home turf and my first Indian Derby. The way he moved and the way he looked he was an outstanding specimen. I believe he was a horse who could have won a group race for India anywhere abroad."
For the upcoming jockeys, here is Suraj's message. "Honesty, hard work and sacrifice, this is the mantra that will never fail you. You will be rewarded sooner or later. It all depends on how badly you want it."
Last Updated Dec 11, 2019, 3:54 PM IST