National table tennis: Harmeet Desai crowned champion in Hyderabad
In an all-Gujarat final, Harmeet Desai defeated Manav Thakkar to win the national title in Hyderabad. This was Harmeet's maiden national trophy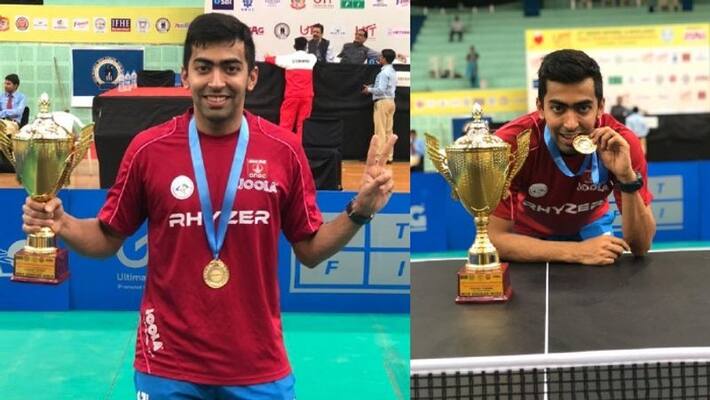 Hyderabad: Sixth-seed Harmeet Desai defeated fourth-seed Manav Thakkar 4-3 in the men's singles final of the UTT 81st National Table Tennis Championships to win his maiden title at the Saroonagar Indoor Stadium in Hyderabad on Sunday (February 2).
In a closely fought final, Harmeet won 11-4, 11-13, 14-12, 9-11, 11-8, 5-11, 11-5. This was the first time ever two paddlers from Gujarat made it to the final and shared the gold and silver medals.
Harmeet had to wait seven-long years after he had reached his first final in 2013. Harmeet pocketed Rs 2.5 lakh for his fantastic efforts. Elder of the two Surat-based players, Harmeet admitted he has improved his game in last 12 months, especially his blocks and shot selection which made the different in the final against Manav.
Indeed, that was true to a large extent but it was his calm and composure in the seventh set that helped him win the crown. "Manav and I have been travelling together and when he engages you in long rallies, more often than not he wins. And the mistakes I made in the sixth set forced me rethink and I decided to keep my cool in the decider," he said.
After taking a 2-1 lead, Manav kept coming at him and levelled to take the issue to the deciding set. But in the last set, it was a different Harmeet as he slowed down the pace to deny Manav the leverage he was looking for. When he changed end at 5-2, the writing on the wall was clear for the Surat boy as Harmeet stroked his way to the title by allowing just three more points to his state mate.      
Earlier in the semi-finals, Harmeet showed no mercy to Haryana's Soumyajit Ghosh and surged into a 3-0 lead before dropping the fourth. Ghosh fought well in the fifth and even came up close with his rival, but Harmeet won the two crucial set and match-points after they were 12-all. Harmeet walked away with the match 11-9, 11-7, 11-4, 8-11, 14-12.
On the adjacent table young Manav accounted for G Sathiyan. Manav won first two games and Sathiyan made a comeback in the third. But, Sathiyan, known for his comebacks, was rendered unproductive by Manav's clever game plan as he pounced on every opportunity that was presented to him. Manav won 11-9, 16-14, 7-11, 15-13, 6-11, 11-9.
In the morning session, Gujarat's Manush Shah and Ishaan Hingorani settled for silver after going down 1-3 to Jubin Kumar and Soumyajit Ghosh in men doubles.
"This is proud moment for Gujarat. Two players have topped the podium. On behalf of GSTTA, I congratulate both and Harmeet in particular for being crowned National Champion. His achievement will certainly motivate young paddlers from the state," said Vipul Mittra, IAS, president, Gujarat State Table Tennis Association.
Results
Men's singles: Harmeet Desai (PSPB) bt Manav Thakkar (PSPB) 11-4, 11-13, 14-12, 9-11, 11-8, 5-11, 11-5.
Semi-finals: Manav Thakkar bt G Sathiyan (PSPB) 11-9, 16-14, 7-11, 15-13, 6-11, 11-9; Harmeet Desai bt Soumyajit Ghosh (Har) 11-9, 11-7, 11-4, 8-11, 14-12.
Doubles: Jubin Kumar/Soumyajit Ghosh (Har) bt Manush Shah/Ishaan Hingorani (Guj) 11-7, 8-11, 11-3, 11-7.
Last Updated Feb 3, 2020, 10:44 AM IST