AITA's wheelchair tennis camp begins at Bengaluru's KSLTA; coach Marc Kalkman sees 'great potential' in trainees
The wheelchair tennis coaching camp in Bengaluru, is an initiative of International Tennis Federation (ITF) and caters to the wheelchair tennis players and coaches as well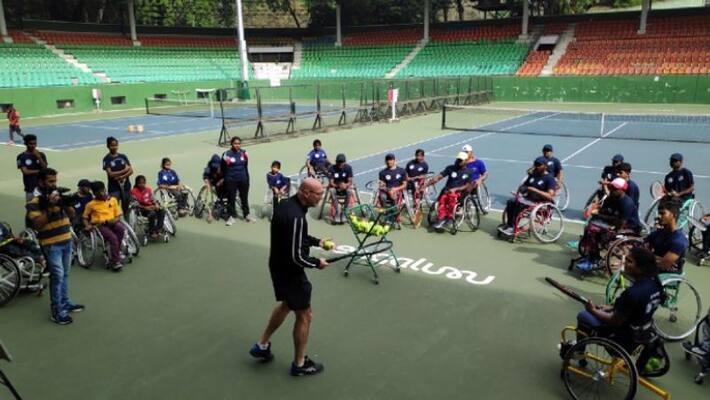 Bengaluru: In a bid to put Indian wheelchair tennis on the world map, the governing body of tennis in India, the All India Tennis Association (AITA) in association with the Indian Wheelchair Tennis Tour (IWTT) and Karnataka State Lawn Tennis Association (KSLTA) are conducting a three-day coaching camp at the KSLTA courts from December 20 to 22.
The coaching camp is an initiative of International Tennis Federation (ITF) and caters to the wheelchair tennis players and coaches as well.
As many as 11 kids including three girls and 18 adults are undergoing training under the watchful eyes of Marc Kalkman, an ITF Wheelchair tennis expert who has coached many paralympic gold medallists and world champions including his wife Monique Kalkman-van den Bosch who is a four-time Paralympic medallist and an inductee of the International Tennis Hall of Fame (2017).
The batch of 11 includes nine from Anantpur and two from Bengaluru. Amongst the adults, six trainees are from Davanagere and two from Dharwad districts while the rest belong to the host City.
Speaking to the media persons on Saturday (December 21), PR Ramaswamy, joint secretary, KSLTA, felt a strong need to support the disabled sportspersons in realising their dream of representing the country.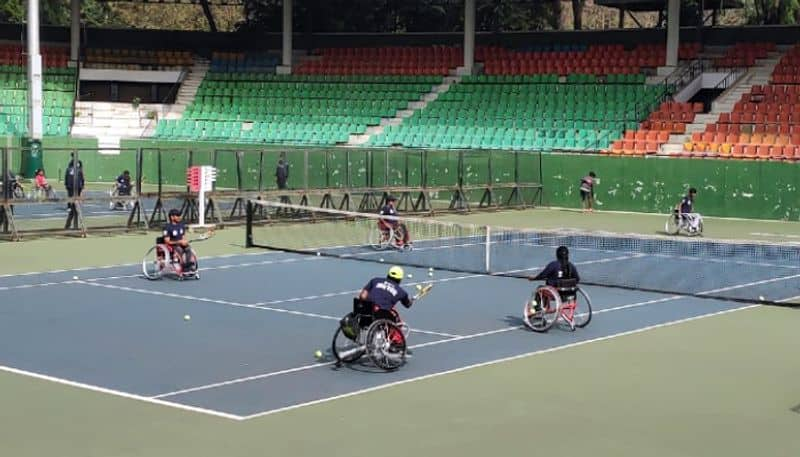 "I salute to those people, who, despite being faced by their cruel fate, have shown resilience to continue their passion. We at KSLTA will do whatever we can to help nurture the talent and hope that these sportspersons will bring glory to our country," said Ramaswamy.
KSLTA has been supporting wheelchair tennis since 2002. Boniface Prabhu was the first wheelchair tennis player from Karnataka to earn international fame with his World Championship medal in the 1998, which fetched him the Padmashree Award. Currently, Pratima N Rao and Shekhar Veeraswamy who train at the KSLTA are India No.1 in the women's and men's categories respectively.     
Elaborating on the camp, Sunil Jain, founder trustee and chief enabler of Astha, a Bengaluru-based NGO that works for empowerment of persons with disabilities and also runs the IWTT, said that there was a concrete plan chalked out to develop and grow wheelchair tennis in India. "Our immediate goal will be to have an Indian wheelchair tennis player participate in 2022 Asian Games," said Jain. 
"We are scouting for about 50 kids to enroll into the programme by February 2020. A junior training cum selection camp will be held in May 2020 where five boys and girls will be selected and trained before they will be introduced to international exposure in an event on the Junior ITF Circuit to be held in Malaysia in August 2020," announced Jain.
Meanwhile, Kalkman was all praise for the efforts made by AITA, IWTT and KSLTA in taking the initiative of training the wheelchair tennis players and coaches.
"I like the synergies coming together for the betterment of wheelchair tennis in India. The trainees here have shown a great potential and I am sure with the right kind of support and training, they are bound to hog the limelight in the world stage," said the Dutchman who is visiting India for the first time.
Last Updated Dec 21, 2019, 4:08 PM IST