Yeddyurappa urges governor to take action against JD(S)
On Wednesday, Yeddyurappa lashed out at the JD(S) for their outrageous behaviour by pelting stones at BJP MLA Preetham Gowda's residence in Hassan.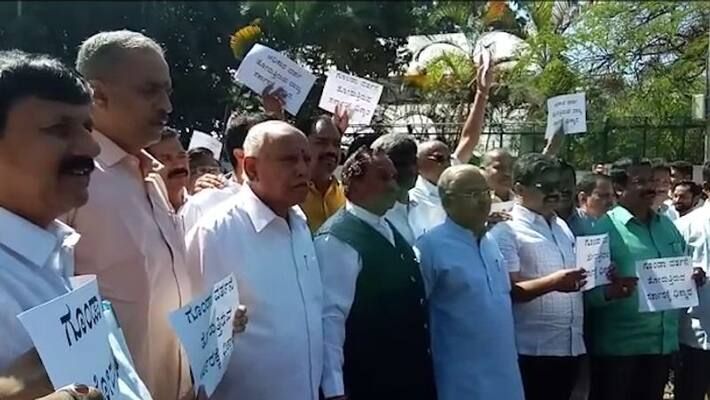 Bengaluru: The BJP chief along with a delegation met the governor Vajubhai Vala to bring to his notice the 'brazen goondagardi' under the leadership of HD Kumaraswamy.
They requested the governor to take strict action against those who pelted stones at Hassan MLA Preetam Gowda's residence.
The row between the JD(S) and the BJP took a turn for the worse after JD(S) men allegedly pelted stones at Preetham's house in Hassan. Angry BJP leaders rushed to Hassan and accused the chief minister of instigating violence. BJP MLA Preetham Gowda stated that the JD(S) members vandalised his house in retaliation. Gowda said, "JD(S) goons picketed outside my house and tried to force an entry. My aged parents were maltreated. Stones were pelted, windows and furniture were also vandalised."
Gowda added that his house was targeted because of a statement he was accused of making, "The JD(S) is unable to digest the fact that BJP is growing in Hassan. This is an attempt by HD Kumaraswamy and HD Revanna to finish me."
The ongoing audio clip controversy has caused a lot of heads to turn and has put the JD(S) on the offensive amid reports of 'Operation Lotus' doing the rounds in the recent months.
A First Investigation Report (FIR) under the Prevention of Corruption Act was filed against Karnataka BJP president BS Yeddyurappa and three others by the Devadurga police on Wednesday.
The FIR has been registered against BS Yeddyurappa, MLAs Preetham Gowda, K Shivanagouda Nayak and a former journalist based on a complaint filed by JD(S) MLA Naganagouda Kandakur's son Sharanagouda Kandakur. The BJP leaders have been accused of luring Sharanagouda by giving an advance of Rs 10 crore to convince his father to switch sides. During a press meet in Bengaluru, State chief minister HD Kumaraswamy released an audio clip of the alleged conversation between Yeddyurappa and Sharanagouda Kandakur.
But BS Yeddyurappa maintained that the audio was altered. Speaking to reporters, Yeddyurappa said that though the voice in the clip was indeed his, the content was altered. The strategic release of the altered clip just before presenting the Budget was nothing but an attempt at maligning his and the BJP's image, Yeddyurappa said.
Last Updated Feb 14, 2019, 6:04 PM IST