Two students arrested in interstate drug smuggling, 10 kilos marijuana worth Rs 5 lakh seized
Bengaluru police arrested two inter-state drug smugglers and seized 10 kilos Ganja worth Rs 5 lakh. The arrested have been identified as Diwakar (21), and Shivaram (19).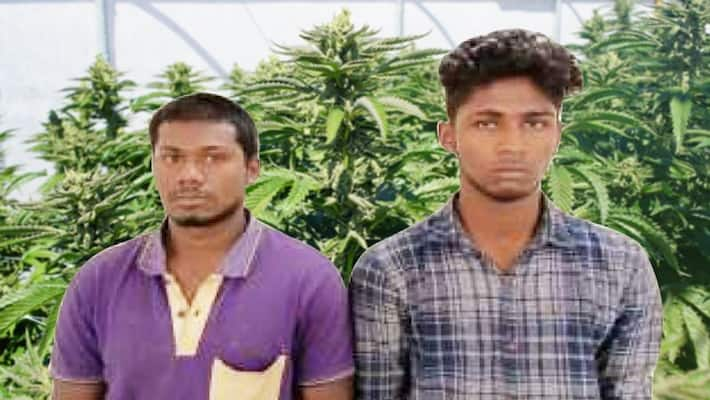 Bengaluru: Based on a tip-off, Bengaluru police arrested two youths and seized 10 kilos of Ganja worth Rs 5 lakh. The arrested duo, Diwakar (21) and Shivaram (19) are students from the city of Kambam in Theni district, Tamil Nadu. They were caught red-handed by police at FTI circle in Nandini Layout while trying to sell drugs.
According to police, Diwakar and Shivaram had packed the ganja in a plastic bag and were waiting for buyers near FTI Circle.
"As per the information from sources, the ganja seized was grown in farm along with other crops at Theni District in Tamil Nadu and the same was smuggled to Bengaluru where there is high demand of the substance by students. It is shocking to see students selling ganja out in the open without any fear." said a senior police officer.
The accused persons have agreed to the crime and said that the smuggled cannabis was transported in a local bus via Nammakal, Salem, Dharmapuri, Krishnagiri and Karnataka bordering Hosur taluk to Bengaluru. Students studying in top colleges in the city outskirts around the Jnanabharathi locality are potential buyers and the drug peddlers chose to trade their items in the area.
Malleshwaram sub-division assistant commissioner of police, Dhananjaya V, Mahalakshmi Layout Inspector, BN Lohit led the operation.
About a month ago, Bengaluru Police raided a lodge and arrested an inter-state gang involved in peddling drugs that had come with 11kg of cannabis to be distributed across the partying circuit especially in central and south Bengaluru. The main accused, Mandeep Roy worked as a caretaker of a paying guest accommodation in Jayanagar and had been running the drug business racket for two years.
Last Updated Jan 22, 2019, 7:02 PM IST