Speeches will be curtailed, trust vote will be held today, says Speaker Ramesh Kumar
Karnataka Assembly Speaker Ramesh Kumar has expressed confidence in holding the trust vote today (July 22)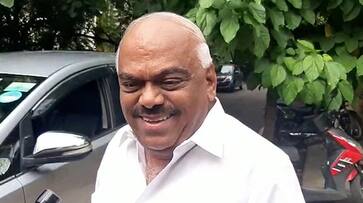 Bengaluru: Karnataka Assembly Speaker Ramesh Kumar expressed hope that trust vote will be held today (July 22) after a delay of four days since the motion was moved.
He was speaking to the media outside his residence in Domaluru. He said that speeches will be curtailed today so that there is time to conduct trust vote. Speaker also said that he hopes that the trust vote process will be completed today.
A motion was put before the assembly for trust vote on Thursday. But due to extended speeches, the trust vote was not held in the assembly.
To make sure that the trust vote takes place today, two independent candidates R Shankar and H Nagesh had filed a petition before the Supreme Court to hold an urgent hearing to direct Karnataka assembly to hold the trust vote by today 5 pm (July 22).
However, latest reports claim that the CJI has told that the petition will be heard tomorrow (July 23). But senior advocate Mukul Rohatgi, who is  representing the independents is trying to convince the bench and remind it of midnight hearing that had directed Yeddyurappa to prove majority within 24 hours of filing the petition.
Meanwhile, the ruling coalition has requested to disqualify t rebel MLAs. Speaker Ramesh Kumar has summoned rebel lawmakers for a hearing.
Last Updated Jul 22, 2019, 11:19 AM IST