Sankranti: Actress Tara celebrates Pongal with BBMP pourakarmikas
Actress and BJP leader Tara Anuradha celebrated Sankranti in a different way by cooking Pongal along with BBMP conservancy workers and distributed sarees to them.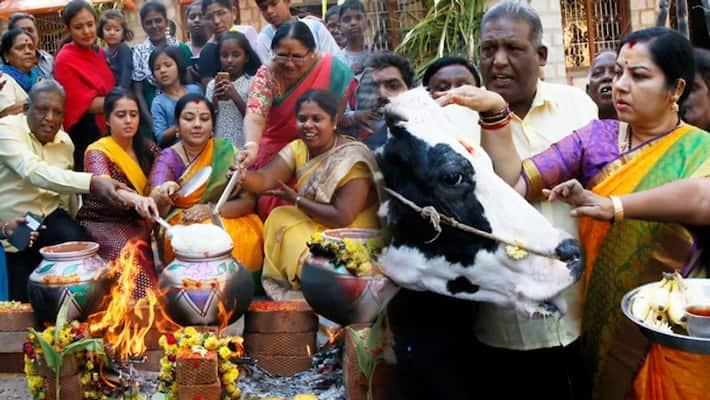 Bengaluru: Sending a message of unity, BJP leader and actress Tara Anuradha celebrated Sankranti by participating in the cooking of Pongal (rice dish) along with Bruhat Bengaluru Mahanagara Palike (BBMP) workers and later distributed sarees to them on January 14.
The event was organised by Bharathinagar Resident Welfare Association at Cox Town where people irrespective of their religious background came together to participate in the festivity of Pongal.
According to Hindu communities, especially in South India, rice along with jaggery is mixed to make a sweet called Pongal to welcome the beginning of the annual harvest.
"People from all walks of life tread the same earth, and the idea of including BBMP pourakarmikas in our Sankranti celebrations is to send a message that we want to live in peace and harmony, undivided by any social barrier. …The jaggery, sesame seeds rice all mixed to make Pongal is prepared to welcome the annual harvest festival with joy," said Tara.
Ravi NS, Bharathinagar Resident Welfare Association President distributed 100 sarees that were later handed over to the pourakarmikas. 
"The BBMP conservancy workers work hard to clean the city every day. They play a vital role in the prevention of diseases and health hazards. In order to make them feel good and display our gratitude for the services that they render, we decided to celebrate Sankranti with them. Tara, despite being a busy politician and actress, still made it, which is the highlight of our celebration," said Ravi.
Last Updated Jan 15, 2019, 12:14 PM IST