Republic Day 2019 flower show: Lal Bagh pays tribute to Mahatma Gandhi
The Lal Bagh authorities have chosen Mahatma Gandhi as the theme for their annual flower show on the eve of Republic Day celebrations. According to Lal Bagh deputy director, 7 lakh flowers were used and have spent Rs 1.80 crore for the decoration and the Gandhi theme.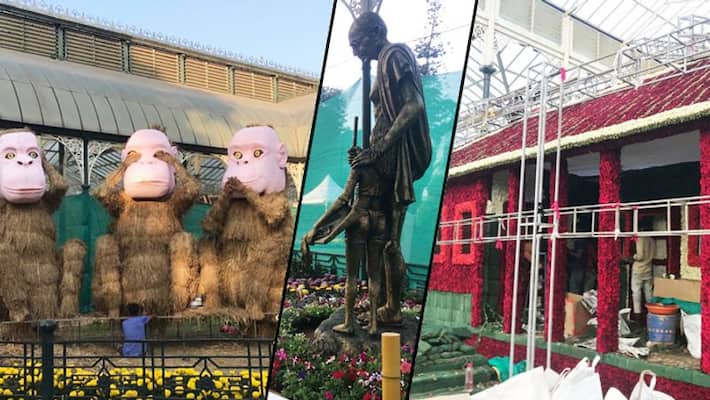 Bengaluru: To mark Mahatma Gandhi's 150th birth anniversary, the Lal Bagh Botanical Gardens' authorities have chosen Gandhi as theme for their 206th annual Republic Day flower show.
According to Lal Bagh officials, 7 lakhs of flowers were used designing and Rs 1.80 crore was spent to create the theme.
According to deputy director of Lal Bagh, Chandrashekar, 2.4 lakh red roses, over 3.2 lakh white chrysanthemums and 80,000 orange roses were used for the flower show and the artists have been working from last one month for the project.
"We have created Rajghat, Bapu's kuteera, three monkeys and Dandi march by using flowers and grass. This apart, the artist from Chitrakala Parishat have given a giant chakra and spectacles to add to the theme," said Chandrashekar.
Tight security

Following incidents of honeybee attacks in the past and a child's death after birds stone water bowl collapse in 2016, the authorities have put paramedical teams.
To keep an eye on mischief mongers, 100 CCTVs have been installed. This apart, 40 home guards, 50-member special squad from Lal Bagh and over 300 police personnel will be deployed.
The show will start from Friday (January 18) and go on till January 27. Adults will be charged Rs 70 for entry and children will be charged Rs 20. For schoolchildren, the entry is free.
The vehicle parking for visitors is limited inside the Lal Bagh premises and arrangements have been made at JC Road, Shanthinagar bus depot and Al Ameen College on Lal Bagh Road.
Last Updated Jan 17, 2019, 6:16 PM IST