Mysore Dasara: All about the elephants carrying the Golden Howdah
Elephants are an integral part of Mysore Dasara. One of the trained elephants carries the golden howdah on the day of Vijayadashami having the idol of Goddess Chamundeshwari.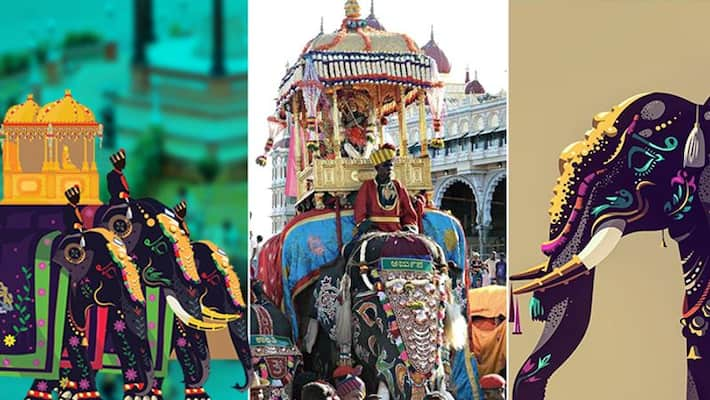 Bengaluru: As you all might be aware, Dasara is a 10-day festival celebrated in Mysuru, Karnataka. The festival celebrates the victory of good over evil, with mother Durga slaying demon Mahishasura. 
While the festivities are hard to miss, so are the elephants which take part in the procession. These pachyderms are extensively trained and start arriving to the cultural capital a month in advance. 
The procession takes place on the day of Vijayadashami or the tenth day of the celebrations. 
These mammoth creatures are brought in trucks. The distance between their place of stay and the actual procession in an arduous 70km. it is interesting to note that while the elephants arrive at the capital, villagers greet the animals all along the way. It is the district in-charge minister who extends a royal welcome to the elephants. 
How are the elephants chosen? 
It is the trainers who choose the elephants. Trenches are laid so that the elephants are caught. Interestingly, it is said during the Wodeyar rule, these large animals which were caught were inspected in open fields. Their strength, personality and character were examined. Not just that, their walking styles, weaknesses to seduction, the facial charisma were some of the factors which were also scrutinised. Then the chosen elephants were trained for the festival. It is said that the king himself would oversee the training. Sometimes abandoned young elephants are also trained for Dasara.
How are the elephants named? 
Elephants are named based on mythological characters. So you have elephant names like Drona, Balarama, Arjuna, Gayatri among others. 
The elephant chosen carries the Golden Howdah with an idol of Goddess Chamundeshwari in it. It weighs 750 kg and is made of gold. 
Once the procession is over, the elephants are sent back to Nagarahole National Park where they rest till the next Dasara. 
 
Last Updated Sep 27, 2019, 5:34 PM IST