Mayor adjourns BBMP council meeting as Congress-JD(S) councillors storm well
While the Bruhat Bengaluru Mahanagara Palike Council was scheduled to discuss important questions raised by several councillors, the discussion derailed as the ruling alliance started their protest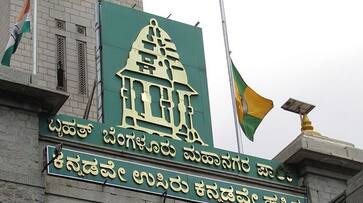 Bengaluru: Mayor Gangambike Mallikarjun had to adjourn the Bruhat Bengaluru Mahanagara Palike (BBMP) Council on Tuesday after Congress-JD(S) councillors stormed the well accusing the BJP of "horse-trading".
While the Council was scheduled to discuss important questions raised by several councillors, the discussion derailed as the ruling alliance started their protest.
The BJP ridiculed the ruling alliance for failing to monitor their colleagues.
According to reports, the three party councillors were raising slogans against each other, within a few minutes. The mayor was reportedly forced to adjourn the meeting after the incident.
The meeting that was scheduled for 10:30 am began only around 12:20 pm. The delay was reportedly due to the protest staged by Congress councillors and party workers at Mysore Bank Circle, near the BBMP headquarters.
The opposition leader Padmanabha Reddy accused the mayor of not following the rules of business. He said that she should have suspended the Congress-JD(S) councillors for storming into the well.
He demanded the resignation of the mayor and the deputy mayor as the alliance no longer have the numbers.
The mayor told the media later that she would appeal to councillors to ensure the smooth functioning of the council on Wednesday.
Meanwhile, the mayor stated that Kempegowda Jayanti will be celebrated later this month. She reportedly said that though it was to be celebrated on the day of Bengaluru Karaga, the program could not be held as the model code of conduct was in place. They could not present the awards as well. A committee would be formed to look into the applications for the award, she added.
Last Updated Jul 10, 2019, 1:24 PM IST