Kothur Manjunath threatens to release CD against Congress MP KH Muniyappa
Former Congress MLA Manjunath had compared Dalits to his shoes when questioned about fake certificate submission. He has now threatened to release a CD against KH Muniyappa if he contests in the Lok Sabha elections.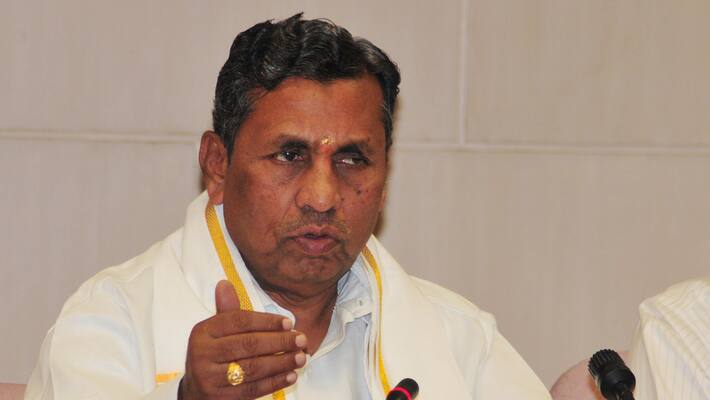 Kolar: Former MLA from Congress Kothur Manjunath has threatened to release a  CD against Kolar MP from Congress KH Muniyappa, if he is given a ticket to contest the Lok Sabha elections.
Currently, Manjunath's candidacy has been declared null and void by the Karnataka high court, following a case of fake caste certificate submission to contest from Mulbagal (reserved for SC category).
Thus, Congress is likely to field Muniyappa in Kolar in the Lok Sabha elections.
"I will introduce people to another face of Muniyappa. I have not troubled anyone so far, but people should know how Muniyappa has created trouble for others. I will work against Muniyappa in this Lok Sabha election, if he is given the ticket," he said.
Manjunath and Muniyappa became arch rivals when Manjunth had filed his nomination from Mulbagal (as an independent candidate) in the 2018 Assembly elections and Muniyappa too had filed the nomination of his daughter Nandini (from Congress) in the same constituency. This fight was not taken lightly by the Congress. The party made both the candidates withdraw their nominations.
Currently, Manjunath has appealed to the Supreme Court requesting a stay on the fake caste certificate verdict by the Karnataka high court. But, so far the case has not been taken up for hearing. So, even if he can't contest, Manjunath has said that he will support any other able candidate from the Congress, but will work against Muniyappa, if he is elected.
Congress already faces an opposition in Mulbagal with independent candidate H Nagesh, who shifted to the BJP this January. Now, opposition to party candidate from Kolar too will prove to be problematic for  the Congress in the coming Lok Sabha elections.
Though Manjunath had not specified about the content of the CD, this news has raised the eyebrows of Congress leaders, especially KH Muniyappa.
Fake caste certificate row:
Dalits in Mulbagal (allegedly supported by Muniyappa) claimed that Manjunath belonged to Baairagi community. But while contesting elections in 2013, he had submitted a fake caste certificate and had claimed that he was from the SC community.
Following this, an angry Manjunath compared Dalits to shoes and had said, "My shoes are worth Rs 50,000. Do they even have the ability to buy such costly shoes? They are not even worth the shoes I am wearing."
Last Updated Mar 7, 2019, 2:49 PM IST