Karnataka: Intermittent rains result in 11,772 suspected dengue cases
With a spurt in suspected dengue cases in Karnataka and especially in Bengaluru, experts blame it on the intermittent rains and due to lack of proper source reduction programme. So far 11,772 suspects and 997 confirmed dengue cases have been recorded and worst is Bengaluru alone which recorded 951 confirmed cases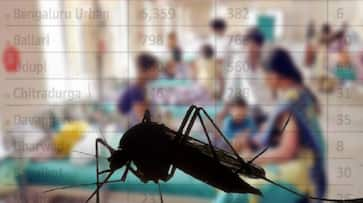 Bengaluru:  With 997 confirmed cases of dengue in Karnataka so far, the health experts have blamed it on intermittent rains in state due to which Adese Egytie mosquitoes responsible for spreading dengue have increased.
Dr Ravi K, Prof of Medicine, Bowring and Lady Curzon Hospital, Bengaluru, in his observation, said, "The patients with symptoms like severe abdominal pain, persistent vomiting, bleeding from gums or nose, blood in your urine, stools or vomit, bleeding under the skin, which might look like bruising, difficult or rapid breathing, cold or clammy skin (shock),fatigue, irritability or restlessness are basically taken into consideration for infected with dengue virus.
"If there is bleeding in motion and internally or platelets level goes down below 20,000, we will administrate platelets, keep the patients on IV fluids and heavy protein diet. This disease is self-limiting and with improvement in health conditions, the patients if admitted, can be discharged," said Prof Ravi.
Since the dengue spreads in form of a larve in clean and stagnant water, the cases may have gone up. The sporadic rains have resulted in stagnation of water and in places where there is short supply of water, the water is stored in open tanks, this has given rise to dengue larve. If there is continuous rain and proper larve reduction like fumigation, the spread can be contained.
"The Congress-JDS combine in BBMP from where more cases have been reported, have failed in doing duty. The garbage is not cleared storm water drains are chocking hence giving rise to dengue larve," said BJP's Padmanabha Reddy, opposition party leader in Bruhat Bengaluru Mahanagara Palike (BBMP).
Last Updated Jul 2, 2019, 3:22 PM IST