Karnataka govt hangs by thread as ministers resign to make room for rebel MLAs with Cabinet reshuffle
From voluntary resignations to Cabinet reshuffle and resort politics, here are latest developments of Karnataka coalition crisis.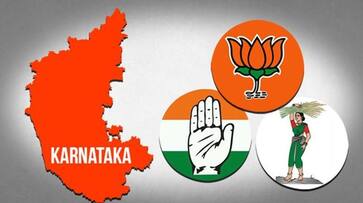 Bengaluru: After many twists and turns, the Congress and JD(S) ministers resigned from their posts and gave way for the parties to reshuffle the Cabinet. Meanwhile, in an emergency press meet, Congress leader, former chief minister Siddaramaiah requested the rebel MLAs to return on the promise of providing them ministries.
13 MLAs resigned from their posts and independent MLA H Nagesh has submitted his resignation as minister from the coalition government in Karnataka.
With news of more MLAs being ready to resign, JD(S) and BJP MLAs are being taken to resorts to avert poaching.
Meanwhile, the Congress and the JD(S) have said that the government will continue despite crisis. All issues will be sorted, they said.
Speaking to media, Karnataka Congress in-charge KC Venugopal said, "In the last five years we are witnessing anti-democratic movement by the BJP to destabilise the coalition government where they are not in power. In Karnataka, this is the sixth time the BJP is trying to destabilise the government. They are using agencies like IT (Income Tax Department) and ED (Enforcement Directorate) and offering money and ministership and are indulging in horse-trading to destabilise the government."
Siddaramaiah also requested the MLAs who quit from their posts to return. "In their sixth effort, the BJP is trying something new and is trying to project that it is not involved. This is drama by the BJP. But their efforts will fail for the sixth time too. Some MLAs are disappointed that they did not get ministries. But all cannot get positions. It is a request to those who have quit from their positions. We will listen to and solve your grievances and request you not to fall prey to BJP's luring. Do not take hasty decisions. Those who are disappointed but are eligible will be given ministry. We have not accepted the resignation of independent minister H Nagesh," the former chief minister said.
Chief minister Kumaraswamy has collected the resignations of all ministers and has submitted it to the Governor.
BJP has booked rooms at Ramada Hotel in Doddaballapur for four days to keep its MLAs safe to thwart any attempts at 'reverse poaching' by the Congress and JD(S).
The JD(S) has booked 35 rooms in a resort in Kodagu for its MLAs for three days.
Speaker Ramesh Kumar will announce his decision on the resignation letters tomorrow (July 9). If resignation letters are accepted, then the number of coalition government will reduce to 105. Whereas BJP has 105 MLAs with it and if, as alleged, independent MLA Nagesh supports the BJP, then the party will have sufficient numbers to form government.
Last Updated Jul 8, 2019, 3:53 PM IST