Karnataka: Former PM Deve Gowda predicts midterm polls
HD Deve Gowda has said that his party JD(S) will fight the midterm polls all alone.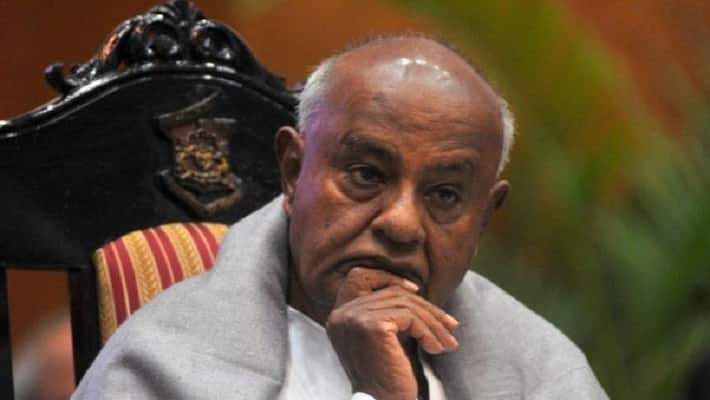 Bengaluru: JD(S) supremo HD Deve Gowda fancies his party coming back to power in case midterm polls are held in Karnataka. 
Speaking to party workers, the supremo said, "You should all work hard. You should take up this endeavour of intimating people about the good works that HD Kumaraswamy did when he was the chief minister of the state." 
On the issue of forming any coalition, he said, "JD(S) will face the polls as a single party. There is no need to form any coalition. This time, we will emerge victorious." 
He added that the BS Yediyurappa government would collapse latest by January. 
Last time when the assembly elections were held, JD(S) could manage only 37 seats. The BJP managed to get 104 seats. But with the help of the Congress, they formed a government, with HDK at the helm of affairs. 
But things did not go smooth as there were differences that came up. Finally, 17 MLAs from both the parties tendered their resignations, paving way for a collapse. 
The HDK government lost the trust vote 99 – 105 after a prolonged session. 
Later, BS Yediyurappa was sworn-in as the chief minister. But his cabinet could not be formed initially for various reasons. 
As regards the disqualification of the 17 MLAs, they have approached the Supreme Court, but the top court has shown no hurry in hearing the case. 
The state will also go for by-polls but these disqualified MLAs can't contest it. 
 
Last Updated Sep 16, 2019, 5:59 PM IST