Karnataka Elections 2018: Ravi Subramanya claims Basavanagudi to be the constituency with the least crime rates
BJP's L.A. Ravi Subramanya is now eyeing for a hat trick, after winning twice from the Basavanagudi constituency which has the rural fragrance and the cultural stronghold in the city.

Basavanagudi is one of the constituencies with least problems. However, JDS and Congress are alleging that there is no development in the last 10 years in this constituency.

Ravi Subramanya answers questions regarding his electoral plan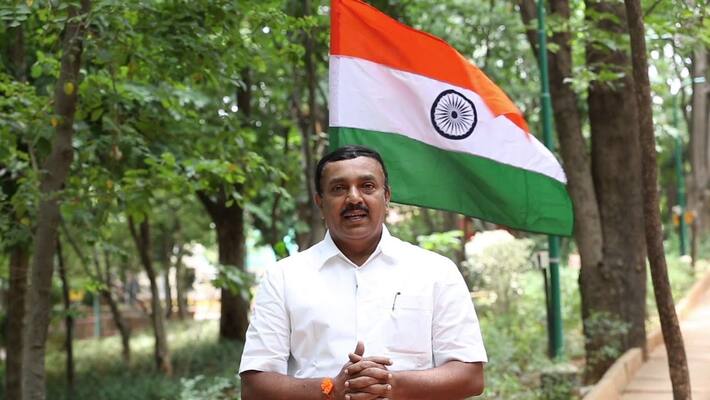 ·         There are allegations that there is no development in the last 10 years?
Art- Culture, Health-Education, Kannada environment have been progressively built. A peaceful atmosphere has been created for the citizens to live a peaceful life. Even the police department claims that this constituency has the least crime rate.
·          Another allegation is that the waste problem has not been solved and roads have been repaired with tar just before the election
No. I do not agree with these allegations.  There is no tar problem here. 95% of the underground sewage work is over. 90 % of storm water drainage work is over.  Other requirements are being worked on.
·         Employment for the youth has not been created, water problem has started and no long-term solution for the problems have been found.
There is a constant interaction with citizens to find out their problems. A building has been constructed, where spoken English classes and skill training centres for women have been organised. Our aim is to create jobs. There is no water problem in this constituency.
·         No welfare programmes for the poor, no visit to the constituency after winning the election.
The Primary health centre at N.R. Colony has been upgraded. A Dialysis centre has been opened. Dental services are being given. There is a plan to start one more dialysis centre.  Dialysis services are given with a minimum cost. There is a huge wish to provide health services to every poor citizen. We have already put CCTV to safeguard women and children. It has the least crime rate when compared to the other constituencies. Giving no room to rowdyism , burglary, snatching of chains, a conducive peaceful environment has been created. People are living peacefully, so what else do you want?
·         People are expecting new changes, even the rivals are in large numbers.
Change is universal I agree. The 14 rivals are taken seriously and they are strong. People who have seen 10 years of work are canvassing self promotion. Even organisations have lent their helping hand. People's support is shown during the campaign.  Every worker is acting as though they are the BJP candidates.  This has doubled the hope of winning.
Last Updated May 3, 2018, 4:44 PM IST