Karnataka by-poll: Win or loss, trying times for chief minister BS Yediyurappa continues
With dates for by-polls announced, the threat from disqualified leaders, internal rebellion in the BJP and possible mid-term polls have all cast doubt on the continuation of BS Yediyurappa-led Karnataka government. According to sources, if the disqualified leaders are entertained, the loyal BJP leaders will show resentment. If the results in polls swing away from the BJP, the numbers will keep the chief minister worried.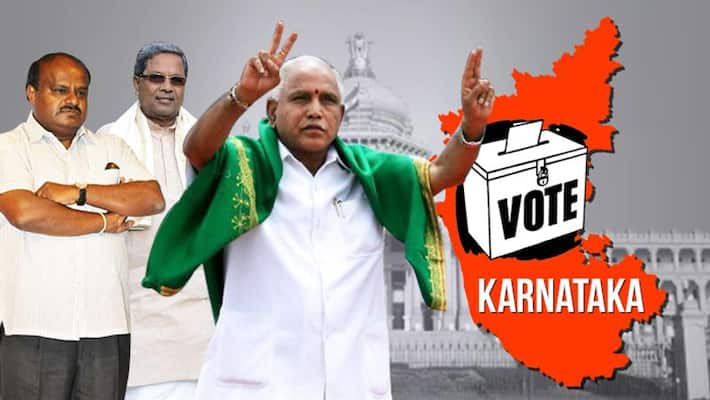 Bengaluru: As another political slugfest in Karnataka is set to take place in October following the announcement of by-poll dates to 15 Assembly constituencies, Karnataka chief minister BS Yeddyurappa finds himself in a tight spot. A win in all segments may definitely add numbers but the internal rebellion may shoot up as loyal BJP workers are against migrants to the party. A loss will put the government in danger as the Congress and JD(S) may reform an alliance to dethrone BS Yediyurappa.
According to Kengal Shreepada Renu, Karnataka Congress spokesperson, the local BJP unit and many legislators feel that they are being sidelined, and they hold the view that these disqualified leaders shifted their allegiance for the sake of money and do not want such leaders' names to be attached to PM Narendra Modi.
"Loyal BJP workers and old-timers feel that PM Modi is clean, and associating these leaders' names with him, will only bring disrepute to Modi's image. Hence their views will bring the internal rebellion out in open and will put Yediyurappa on tenterhooks," he said.
He further added that Congress has an advantage as they will make an emotional appeal to the public about the way the party was "backstabbed" by disqualified leaders.
"In case if Congress wins the majority of seats, then the BS Yediyurappa-led government will face another problem with numbers. Whether it's a win or loss in the by-polls, BSY (Yediyurappa) will remain in danger." Renu stressed.
Renu's views was backed by Tanveer Ahmed, national spokesperson of JDS, who expressed similar sentiments.
Ahmed pointed out that the 17 leaders from Congress and JD(S) coalition who were poached have now been left in the lurch and are venting their anger at Yediyurappa. "After the results, the BS Yediyurappa government will face problems. Although Congress and JD(S) have not formed an alliance now, after the results, they may come together to teach the BJP a lesson for dislodging the previous government," said Tanveer Ahmed.
BJP remains confident:
However, the BJP unit from Karnataka remains confident as they feel that no leaders will show any indiscipline.
The party that came to power this time with the help of disqualified MLA's will always have to remember their efforts and reward them.
"BJP cannot give them (disqualified legislators) any assurance as the matter is in court. In case they are allowed to contest, they will be given tickets, and once elected, will be given positions. With regard to rebellion, such things will not come into play and the party high command is strong," said S Prakash, Karnataka BJP spokesperson.
The Election Commission on Saturday announced by-polls to 15 out of 17 assembly segments in Karnataka. Maski and RR Nagar Assemblies will not witness any elections as many have approached the court with complaints of bogus votes and fake voter ID cards.
The by-election to 15 constituencies will be held on October 21.
Last Updated Sep 24, 2019, 6:35 PM IST