Karnataka Assembly session adjourns; MLAs return to their plush hotels, resorts
While several MLAs have complained to their party about fatigue, they have to stay in their respective hotels and resorts for another two days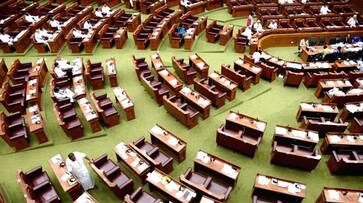 Bengaluru: Legislators from the BJP, Congress and JD(S) were bussed back to their luxurious stays after the Assembly sessions on Monday. Some members described it as an extended confinement before Thursday's trust vote.
Most of the 160 to 170 MLAs had expected the trust vote to take place on Tuesday. According to reports, they had been looking forward to it after a week-long stay in hotels and resorts. They were moved to these luxurious digs by the three parties in order to avoid poaching.
While several MLAs have complained to their party about fatigue, they are currently looking at 48 more hours inside the plush compounds.
According to a ToI report, the MLAs said that all they can do sitting inside their rooms are watch television, talk to their colleagues and have intellectual conversations.
The BJP MLAs in Bengaluru have now been asked by the party leaders to join the group to avoid any counter poaching activities.
The BJP members were ferried to a resort in Yelahanka. Senior party leaders have also reportedly decided to put up there to ensure the group does not split.
The Congress also packed its legislators to a resort in Yeshwanthpur shortly after the Assembly sessions adjourned on Monday. Siddaramaiah, the Congress Legislature Party leader, also accompanied them and held discussions, reports said.
JD(S) MLAs also returned to their resorts on Monday.
Last Updated Jul 16, 2019, 3:08 PM IST