JD(S) appoints 14 chairpersons to boards, corporations, withholds appointment of 5 Congress legislators
Congress had given a list of its 19 members as agreed upon on December 22. But JD(S) delayed the process and has now appointed 14 chiefs for boards and corporations, leaving out five.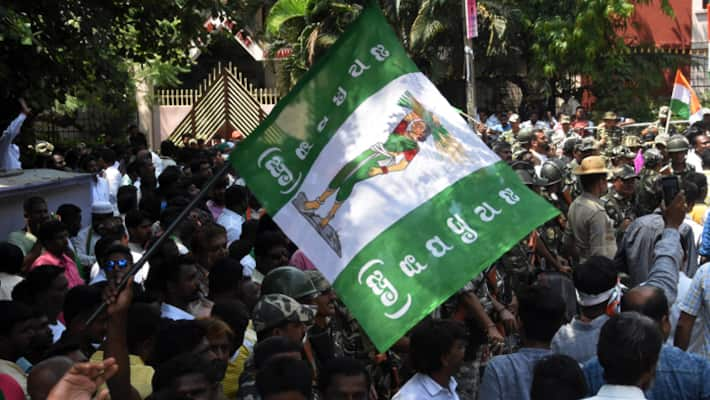 Bengaluru: After a long wait, JD(S) leader, chief minister HD Kumaraswamy approved the posts of chiefs for boards and corporations. While 14 names got the green signal, five names referred by its coalition partner, Congress have been kept on hold. The chief minister also issued orders appointing eight Congress legislators as parliamentary secretaries.
The two parties had agreed to appoint chairpersons to 30 boards and corporations with 20 posts for Congress and 10 for the JD(S). Accordingly, Congress had forwarded the list of chairpersons for 19 posts soon after the Cabinet reshuffle in December 22, 2018.
But the JD(S) members were angry that they were not consulted before finalising the names. However, after more than 15 days, CM Kumaraswamy gave the green signal to 14 appointments out of 19 and withheld five names.
The JD(S) also said that it did not want any Congress ministers as heads of boards that are controlled by the JD(S) ministers.
This has angered the five leaders, who have openly expressed their disappointment and anger about being left out.

Five names that are kept in the waiting are:
T Venkataramanaiah, - President, Karnataka Road Development Corporation
SN Subbareddy - President, State Sericulture Industries Board
NA Haris - President, BMTC
ST Somashekar - President, BDA
Dr K Sudhakar – President, Karnataka State Pollution Control Board

The newly appointed chairpersons of boards and corporations are:
1) B K Sangameshwar - Karnataka Rural Infrastructure Development Corporation
2) Narendra R - Karnataka Food and Supplies Corporation
3) B Narayana Rao - Karnataka Forest Development Corporation
4) Dr Umesh G Jadhav - Karnataka State Warehousing Corporation -
5) T Raghumurthy - Hutti Gold Mines Limited
6) Yashwanth Rai Gowda V Patil - Karnataka Urban Water Supply & Drainage Board
7) BA Basavaraj- Karnataka Soaps and Detergents Limited
8) B Shivanna- Karnataka State Electronics Development Corporation Limited (KEONICS)
9) Narayanaswamy SN - Dr B R Ambedkar Development Corporation
10) Munirathna - Karnataka Skill Development Corporation
11) Shivaram Hebbar - Northwest Karnataka Road Transport Corporation
12) BS Suresh- KSSIDC
13) Lakshmi Hebbalkar - Mysore Minerals Limited  
14) TD Rajegowda - Malnad Area Development Authority -
Parliamentary secretaries
1) K Abdul Jabbar, MLC
2) Anjali Nimbalkar - MLA
3) Ivan D'Souza - MLC
4) Mahantesh S Koujalagi - MLA
5) Roopakala M Shashidhar - MLA
6) K Govindaraj - MLC
7) K Raghavendra Basavaraj Hitnal - MLA
8) DS Hulageri - MLA
Last Updated Jan 7, 2019, 5:53 PM IST