IMA scam: SIT summons Roshan Baig for interrogation in Bengaluru
Senior Congress leader R Roshan Baig, who was suspended from the party in June for "anti-party" activities submitted his resignation on Tuesday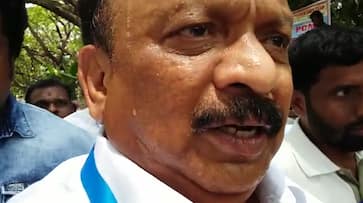 Bengaluru: The Special Investigation Team (SIT) probing the multi-crore I Monetary Advisory (IMA) scam issued a summons to Shivajinagar MLA R Roshan Baig on Tuesday. The MLA, who was suspended from the Congress in June, had submitted his resignation on July 9 (Tuesday).
Baig's name figured prominently in the audio clip released by the IMA Group founder-managing director, Mohammad Mansoor Khan, before fleeing the country. Baig was accused of harassing Mansoor Khan when he was asked to return Rs 400 crore.
However, Baig denied Mansoor Khan's claims.
The SIT which has already arrested BDA executive engineer PD Kumar, whose name surfaced in the audio clip along with Baig's, has asked the politician to appear before the investigating agency at 11 am on Thursday.
SIT officials have reportedly confirmed the summons order issued to Baig and said that he has been asked to appear before it as they need to interrogate him regarding the scam.
The officials had arrested Bengaluru deputy commissioner, BM Vijayshankar, on Monday for allegedly accepting a bribe of Rs 1.5 crore from the prime accused, Mansoor Khan. The arrest took place after his name surfaced in the case while they were questioning assistant commissioner of revenue department, LC Nagaraj, and a village accountant, Manjunath.
LC Nagaraj and Manjunath had been arrested earlier last month.
The three accused had taken a bribe of Rs 4.5 crore from Mansoor Khan in order to issue a favourable document regarding the IMA Group, reports stated.
The SIT has so far arrested 18 people in connection with the IMA scam including 12 board of directors, an auditor, nominated corporator Syed Mujahid, BDA executive engineer PD Kumar, assistant commissioner (Revenue Department) LC Nagaraj, village accountant Manjunath and Bengaluru urban deputy commissioner Vijay Shankar.
 
Last Updated Jul 10, 2019, 12:33 PM IST