Iftar politics: Congress leader Siddaramaiah picks Zameer to host iftar, sidelines Roshan Baig
Holding an iftar by the ruling government during the holy month of Ramzan is a tradition that has been followed for quite sometime. However, BZ Zameer taking the lead this time and disgruntled MLA R Roshan Baig being left out is evident that Siddaramaiah who once had preferred to get identified with Baig has now picked Zameer.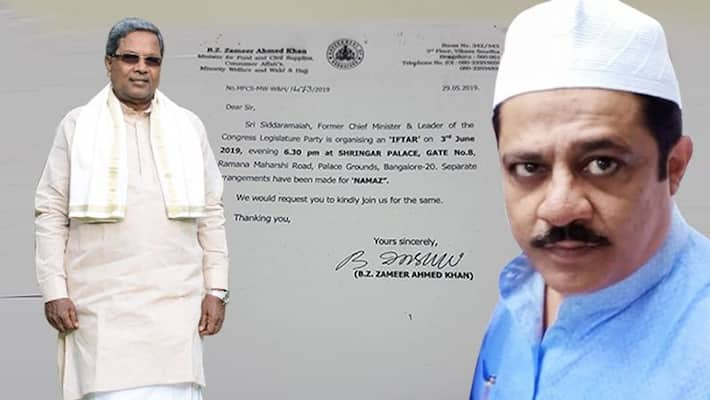 Bengaluru: Iftar politics is at its peak in Karnataka as Siddaramaiah now picks Zameer over Baig to host the party to appease minorities. For this purpose, an official letter head of BZ Zameer Ahmed Khan, Minister for Food, Civil Supplies and Consumer Affairs and Minority Welfare and Wakf  and Hajj is being used on behalf of former CM Siddaramaiah as an official invite to leaders of Muslim community and others cutting across party lines.
A copy of the invite is available with Mynation. It is very evident that the Congress has decided to take Baig and his threats head on and hence given the charge to host Iftar to Zameer who joined the party a year ago. Recently, Baig abused former CM  Siddaramaiah and Karnataka Congress Party in-charge, KC Venugopal. 
Congress MLA and close confidante of Zameer, Akhanda Srinivasmurthy said, "This time, Siddaramaiah has given the charge to Zameer as he is very popular and the community has accepted him as big leader. I do not know if Baig is invited or if he is interested in coming."
The invite also has been extended to BJP leader Abdul Azeem and coalition partner JD(S) Muslim leaders like Tanveer Ahmed and others. But there is no mention of Baig. 
"This practice of iftar is to send out a message that secular parties and Muslim leaders in politics are with the minority community. Earlier it was Baig who hosted iftar and this time, Congress has chosen Zameer. As a secular party, we respect the invitation and we will attend. Regarding Baig's presence or absence, it is left to Congress to decide." said Tanveer Ahmed.
BJP's reaction
BJP which was hoping to stake claim to form the government is watching this development and feels that Baig has already hinte at a breaking his ties from the party when he sent feelers to BJP the other day. 
"Baig is distracted and disturbed. The new entrants in the party have taken prominence and have overlooked senior leaders," said S Prakash, BJP spokesperson.
Last Updated Jun 3, 2019, 3:26 PM IST