Kumaraswamy's claims turn true as I-T officials raid minister Puttaraju's house
Karnataka minister Puttaraju's house was raided by the Income Tax Department. This was after Kumaraswamy had warned about the imminent raids, on Wednesday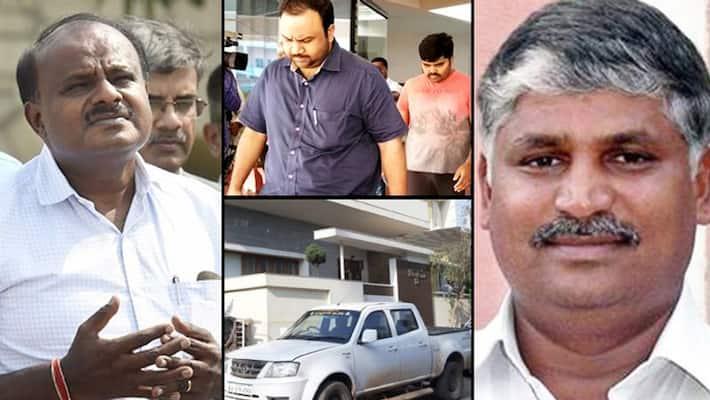 Bengaluru: Karnataka chief minister HD Kumaraswamy on Wednesday had warned that there is a possibility of Income Tax raids on the Congress-JD(S) functionaries and had claimed that the CRPF personnel had been brought from various parts of the country to carry out I-T raids in Karnataka.
Speaking to reporters in Mandya, Kumaraswamy had said, "I have got specific information that some 200 to 300 CRPF sleuths have arrived from various parts of the country. They will be ferried from the airport to the city. They have been brought to Bengaluru from other states to carry out income tax raids in Karnataka."
Kumaraswamy also claimed that the raids would be carried out from 5 am on Thursday (March 28).
Hours after Kumaraswamy's comments, the I-T officials raided several parts of South Bengaluru on Wednesday evening and Karnataka minister CS Puttaraju's house in Mandya and Mysuru on Thursday morning.
According to reports, the I-T officials carried out the raids at the residences of five businessmen, in which three of them are affiliated to the JD(S) and two with the Congress.
Speaking to Newsable, state BJP spokesperson, S Prakash said, "I have no idea what HD Kumaraswamy is commenting on this issue. It is better to let the I-T officials to do their job in peace. There is no meaning in politicising everything."
The officials reportedly reached Puttaraju's house at 4:30 am on Thursday. The I-T officials are on a hunt, not only at Puttaraju's residence but also at his nephew's house and are going through documents and the I-T returns of the minister, reports said.
Seventeen contractors, seven officers from the PWD and irrigation department and executive engineer's house are being raided. HD Revanna's close aide, Ashwath's residence in Hassan is also under the radar.
Several party workers condemned the I-T raids and began to protest in KR Pete.
Last Updated Mar 28, 2019, 10:09 AM IST