Freedom fighter Doreswamy predicts Karnataka government collapse
Freedom fighter HS Doreswamy has said that the Karnataka government would fall in the next six months.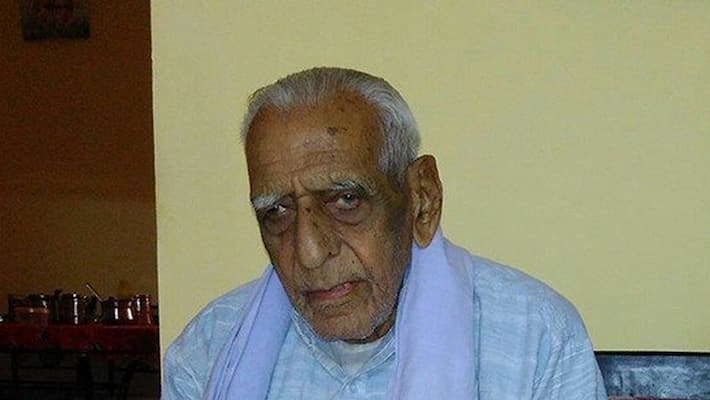 Bengaluru: Freedom fighter HS Doreswamy has predicted that the government in Karnataka would be toppled in the next six months and there would be President's rule in the state. 
The 101-year-old also lamented the fact that the Bharatiya Janata Party (BJP) is destroying the opposition in the country, thereby corroding the very roots of democracy, upon which our political system is built. 
He also urged the people to fight the BJP and save the holy institution of democracy. 
He was speaking at an event to pay homage to AK Subbaiah, the first president of the BJP who passed away last month. 
Reacting to these comments by the freedom fighter, BJP spokesperson Chandrasekhar said, "The BJP state government is strong and secure. The centre also has a BJP government. With this, development will happen. We want a stable government. We want to solve of a lot of issues."
On the issue of allegations that the BJP is stymieing democracy, he said, "The question is any opposition has to fight the government on issues. But in Congress, everything is centred around the dynasty. There is no democracy there. What they want is politics and no responsibility." 
The Karnataka coalition government led by former chief minister HD Kumaraswamy was unable to sustain itself as, as many as 17 rebel MLAs from both Congress and JD(S) resigned due to internal differences. The former chief minister himself moved a trust vote and lost it 99 – 105. 
The 17 rebel MLAs were disqualified by the then Speaker Ramesh Kumar and the matter is now in the Supreme Court. On Saturday (September 14) the disgruntled MLAs met chief minister BS Yediyurappa and expressed their displeasure over matters reaching a dead end. Yediyurappa is said to have consoled them saying everything will be alright. 
The by-elections for the vacant seats will be held soon. 
Last Updated Sep 15, 2019, 10:53 AM IST