Flanked by Yash, Doddanna, Sumalatha files nomination with minorities' support
Sumalatha also offered prayers at Chamundeshwari Temple in Mysuru before filing her nomination, following Ambareesh's practice. "Here I am, and I believe Ambareesh is also with me," said Sumalatha.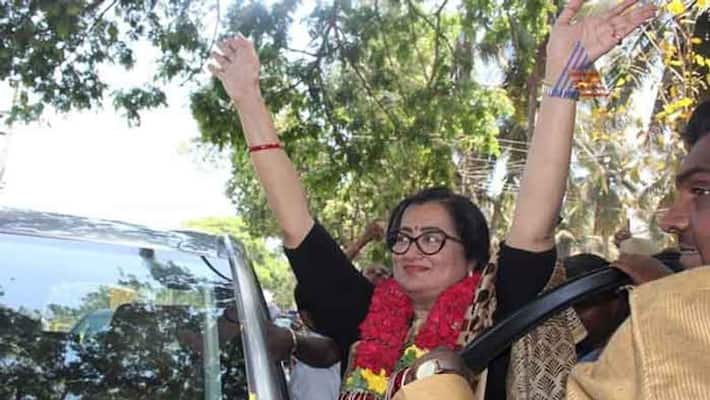 Mandya: Ambareesh's wife Sumalatha has filed her nomination from Mandya constituency as an independent candidate. She was accompanied by a large group of people from Ahinda (minorities, backward classes and Dalits) communitiy.
Sumalatha reached the Mandya deputy commissioner's office and filed her nomination in triplicate. Ambareesh fans from Dailt, Kuruba, Gangamathsatha and Muslim communities shouted slogans praising Ambareesh and Sumalatha.
Actors Yash and Doddanna will accompany Sumalatha in a rally after filing nominations in a mass procession to Silver Jubilee Park. Her son Abhishek has been on her side ever since she expressed her will to contest the elections and it looks like he will accompany her in upcoming campaigns.
Producer, actor Rockline Venkatesh is also expected to take part in the procession.
Sumalatha in a show of strength seems to have gained much support to contest against her opponent Nikhil Kumaraswamy and the Congress which did not give her the ticket to contest from Mandya.
Interestingly, few Congress members were also seen supporting Sumalatha in Mandya when she filed her nominations. They were seen waiving Congress flags while shouting slogans in support of the independent candidate Sumalatha.
Earlier, Sumalatha visited Chamundeshwari Temple and offered her prayers to Lord Chamundeshwari in Mysuru, before travelling to Mandya to file her nominations.
"Every time I used to accompany Ambareesh to Chamundeshwari Temple before filing nomination. Thus, here I am this time and I believe Ambareesh is also with me. My intentions are good, so I sought the blessings of the Goddess," said Sumalatha after offering prayers.
"
Last Updated Mar 20, 2019, 4:19 PM IST