Five-year-old boy dies after being attacked by stray dogs
The boy's father Mallappa went to take a shower and as he returned, he heard his son screaming. When he went out he saw a dozen dogs attacking his son in Bejjegowdanapalya, Soladevanahalli, on the outskirts of Bengaluru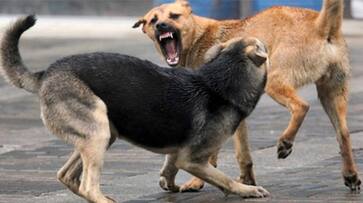 Bengaluru: A five-year-old boy died after being attacked by a pack of stray dogs in Bejjegowdanapalya, Soladevanahalli, on the outskirts of Bengaluru. The incident took place on Tuesday and the boy succumbed to his injuries at around 1:30pm.
The victim, Durgesh, was the fourth of five children of Mallappa and Mallamma, labourers from Kalaburagi district, Karnataka. The couple moved to Bengaluru three years ago and they work at a construction site near Soladevanahalli
Mallappa reportedly said that he had returned home from work for lunch and Durgesh told him that he did not want to eat rice as he was ill. He took Rs 5 from him to buy a packet of biscuits. Mallappa went to take a shower and as he returned, he heard his son screaming. When he went out he saw a dozen dogs attacking his son. Passersby chased the dogs away, reports said. 
A local took Mallappa and Durgesh to a nearby hospital on a motorbike, reports stated. Police reportedly said that the doctors advised Mallappa to shift Durgesh to Saptagiri hospital. But the boy was declared dead on reaching the hospital, reports said.
Also watch: Dog attacks: Five-year-old boy killed; girl left severely injured in Bengaluru
This incident that took place outside the Bruhat Bengaluru Mahanagara Palike (BBMP) office triggered anger over local official's apathy in handling the stray dog menace. 
The police reportedly quoted the locals saying that there are many eateries on the Soladevanahalli-Ajjegowdanapalya stretch. According to reports, staff at these eateries throw leftovers on to the road and the dogs feast on them. Paying guest accommodations in the area also dump food in vacant plots and these actions lead to the increasing number of stray dogs in the area. The locals reportedly said that animal activists complained against them to the police whenever they tried to chase the dogs away.
Last Updated Jun 26, 2019, 12:36 PM IST