Fire-spewing Bengaluru lakes: Foreign students flock to Bellandur, Varthur for research
The froth-and-fire-spewing Bengaluru lakes, Bellandur and Varthur, have become subjects of interest for research. According to Varthur Rising (citizen's activist group) member, students from America, Germany, Korea, Holland and China have approached them for field visits to study the 'man-made disaster'.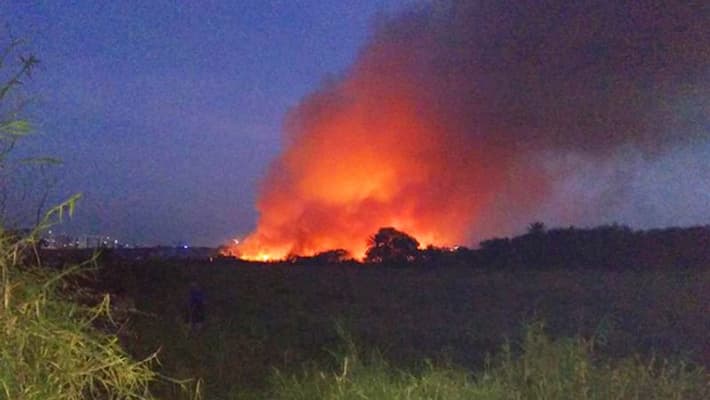 Bengaluru: The continuous froth and fire spewing phenomena in Bengaluru's largest water bodies, Bellandur and Varthur lakes, have become a subject of interest for foreign students. According to activists, students come here to study the 'man-made' disaster.
Students from abroad specialising in socio-economic study, environmental science, etc, get to read a lot about these lakes. The international websites too have taken note and reported the civic administration's apathy in terms of maintenance of water bodies and the environment. 
"From 2015, this ugly trend of 'lakes on fire' is doing the rounds and it is generating curiosity among the scientific community. Students from abroad want to study Bellandur and Varthur lakes. It is a shame for us that our water bodies are becoming tourist destinations for all the wrong reasons," said Jagadish Reddy, Varthur Rising member.
Bengaluru Development Authority (BDA) was supposed to fence the area of Bellandur lake and Varthur lake covering 900 acres and 480 acres respectively. It was supposed to be ready a year ago but is still not done. The constant pressure from lake activists ensured that Bruhat Bengaluru Mahanagara Palike (BBMP) deputes marshals to guard the Bellandur lake entry points. However, the BBMP must provide the same to Varthur lake to prevent illegal garbage dumping.
"The recent fire incident at Varthur lake from Thubarahalli entrance has raised concerns about the life of birds, reptiles and vegetation. Over 20 acres of wetland area is destroyed. This the nesting season for birds. We suspect the deposit of methane and accumulation of garbage would have caused this fire," said Reddy.
However, BBMP officials denied these charges and said, the fire was due to accumulation of dry grass in wetland area and not due to methane. "An aerial survey using drone was done yesterday. We have noticed ashes in 10 acres of area. The samples have been collected by the pollution board authorities for further investigation. We will soon deploy marshals in Varthur lake," said Jagadeesh NC, joint commissioner, Mahadevpura zone.
Last Updated Jan 22, 2019, 7:29 PM IST