Farmer sets ablaze wife, kills himself later over family feud
Narayanappa had sold his land without consulting his wife and children due to which they had filed a civil suit against him. Enraged at this, he set his sleeping wife on fire and later consumed poison, killing himself.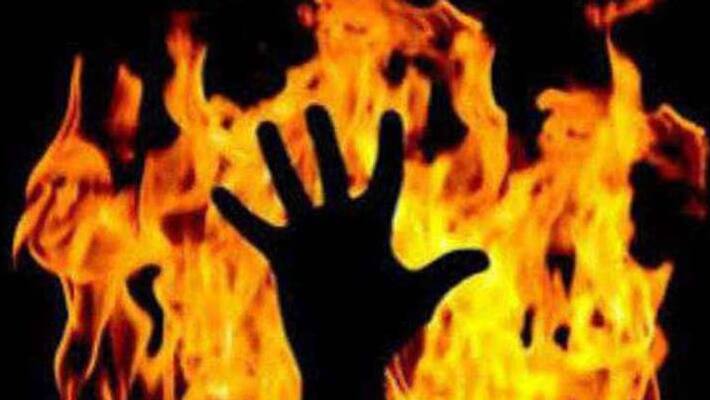 Bengaluru: A family feud led to a 70-year-old farmer burning his 65-year-old wife to death in Channapura village, near Doddaballapura, in the early hours of Saturday. After dousing his sleeping wife Lakshmamma in kerosene and setting her on fire, Narayanappa fled from their house and later killed himself by consuming poison.
The incident occurred at about 1 am on Saturday when Narayanappa entered his house and set Lakshmamma on fire. She succumbed on the spot, before her daughter and daughter-in-law, who were asleep in another room, could even try to help her.
Trouble started brewing between Narayanappa and his wife a year ago, when he sold his 32 guntas land without keeping his wife and children informed. Lakshmamma's son and daughter supported their mother and filed a civil suit against Narayanappa and the property sale.
Narayanappa was furious with his wife, thinking that she had put across the idea of filing aa case against the property to their children. Lakshmamma and the children had refused to let Narayanappa into their house because he had recently left the village, but returned penniless, having spent all his money. Narayanappa then began to live with his elder brother in the same village.
Fifteen days back, Narayanappa had come to his house and threatened Lakshmamma, asking her to tell his children to withdraw the case, failing which he would kill her.
After Narayanappa poured kerosene over his wife on Saturday and set her ablaze, he rushed out of the house and quickly consumed poison, after which he collapsed in the village. Although he was rushed to a nearby hospital, he was declared dead at around 4pm.
A case of both murder and suicide has been filed against Narayanappa by the Doddaballapura Rural police.
Last Updated May 21, 2019, 3:47 PM IST