Diversions after Bengaluru-Doddaballapur flyover collapse leads to snail-pace traffic
While vehicles heading towards Bengaluru are allowed on the flyover, traffic moving towards Doddaballapura is being diverted on Virapura main road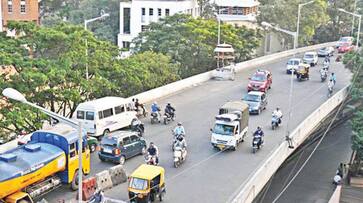 Bengaluru: A portion of Bashettihalli flyover near Doddaballapura collapsed on Friday. Traffic on Bengaluru-Doddaballapura highway was severely affected. The flyover is just 18 months old and reports state that it is the second collapse since it became operational in 2018.
While vehicles heading towards Bengaluru are allowed on the flyover, traffic moving towards Doddaballapura is being diverted on Virapura main road, leading to a snail-pace traffic on the stretch.
The 6km long flyover is the main link for vehicles travelling from Bengaluru to Gauribidanur and towards other towns in Andhra Pradesh like Hindupur and Anantapur. 
The locals reportedly stated that first they saw the sidewalls of the flyover collapsing. They immediately decided to stop the movement of vehicles from Bengaluru to Doddabellapura. Then slowly the soil inside the collapsed portion started to fall.
Residents alerted Doddaballapura Police regarding the incident.
The police reportedly said that they placed barricades on one side of the road, which leads to Doddaballapura. All the vehicles heading towards Doddaballapura were diverted to Virapura main road, which affected the pace of the traffic. They also said that they are watching the other side of the flyover too and have informed the concerned officials regarding the collapse.
Residents said that there was a similar issue towards the end of construction of the flyover. The contractors and engineers repaired it in a hurry and that they are unsure of the quality of the work, reports stated.
The flyover was readied right before the 2018 local elections.
Last Updated Jul 14, 2019, 12:07 PM IST