CM Yediyurappa to set aside Sundays to deal with Bengaluru's garbage woes
In order to keep garbage woes of Bengaluru at bay, chief minister BS Yediyurappa has decided to keep aside Sundays for Bengaluru alone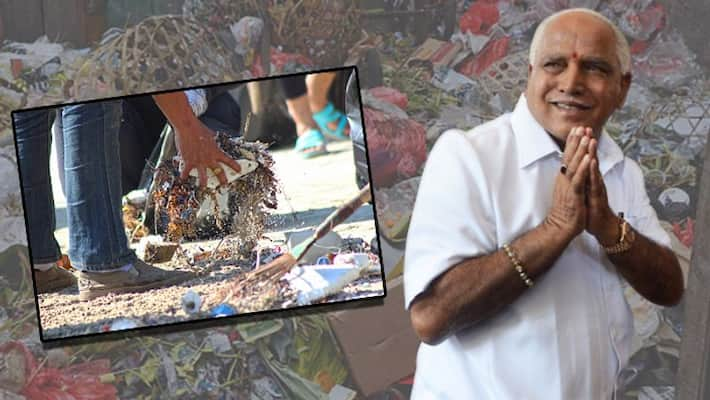 Bengaluru: Karnataka chief minister BS Yediyurappa is on a mission. This time, he is going the extra mile to ensure the garden city of Bengaluru doesn't lose its charm and garbage is not strewn all around. 
So as part of his plans, the CM has decided to set aside Sundays for Bengaluru. He has decided to go on field visits across Bengaluru to send out strict warnings to the officials not to let the city stink. 
The move comes in the wake of the city becoming synonymous with garbage, thereby facing the threat of losing its 'garden city' tag. 
Mandur was the place where garbage was being dumped. But due to the protests there, officials chose Bellahalli as the dumping yard. But now, as it is becoming full, officials are searching for a new place. 
It is interesting to note that the garden city generates 5,700 tons of garbage on an everyday basis. Out of this, only 400 tons goes to waste processing units. About 200 tons is sent for waste processing at a processing unit in Doddaballapur. The remaining garbage finds its way to Bellahalli.
Interestingly, Yediyurappa has sent out strict signals to his officers. One visit to Vidhana Soudha during working hours and you would find officers coming in late by an hour or so. But with Yediyurappa at the helm of affairs, sources say officers have become punctual and are on time. 
It is also pertinent to note that Yediyurappa has not given Bengaluru in-charge portfolio to anyone. That is because as many as 4 MLAs from Bengaluru, sources say, have requested the chief minister to handle the administration of the city. 
It is the Bruhat Bengaluru Mahanagara Palike (BBMP) that takes care of Bengaluru's administration. 
The new move to keep aside Sundays for Bengaluru has also been met with scepticism. Journalists, who wish not to be named, say that when every government comes into force, the chief minister introduces new schemes with gusto. But the challenge is to keep them alive and kicking till the end. 
 
Last Updated Sep 7, 2019, 12:40 PM IST