CM Yediyurappa's nephew Rajesh intimidates cop on duty, says 'I will get you transferred'
In a shocking incident, Rajesh the nephew of Karnataka CM BS Yediyurappa threatened a DCP for not allowing him into the Chamundeshwari temple when the CM was present there.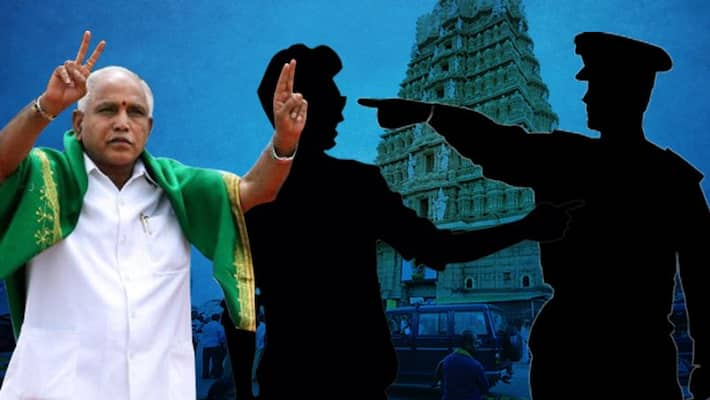 Mysuru: Chief minister BS Yediyurappa's nephew Rajesh is in a spot of bother as he allegedly threatened a DCP on duty at Chamundi Hills, Mysuru, near Bengaluru.
The incident took place when the chief minister paid a visit to the Hills on Thursday (August 29). The nephew too wanted to get inside the temple, but he was not allowed entry due to security reasons.
An enraged Rajesh intimidated the DCP saying "I will get you transferred" using his clout.
Reacting to the incident, Kengal Renu a Congress spokesperson said, "BJP talks about nepotism in other parties. But it is more rampant in the BJP than any other party. They don't practice what they preach. We have seen such acts by the relatives of the BJP across the country. It is high time the CM stepped in and put an end to such rowdy activities."  
On the political front, Yediyurappa finds himself in a very difficult situation as many MLAs who did not make it to the cabinet are upset with him. The issue of Lakshman Savadi, neither an MLA nor an MLC, being elevated to the position of a deputy CM has irked many party men.
Yediyurappa was sworn in as the CM last month, but he was unable to form his Cabinet even after a fortnight. He was well aware that disgruntlement would simmer and sought the assistance of the party high command.
The going is certainly not smooth for Yediyurappa as the Cabinet formation has exposed the rebellion in the saffron camp.
But the party top brass has asked MLAs not to rebel and assist the CM in every possible manner.  
The BJP came to power as the coalition government, headed by the HD Kumaraswamy, the earlier CM, was defeated in the trust vote 99 – 105.
Last Updated Aug 30, 2019, 9:52 AM IST