Birthday boy celebrates with assault, rampage in Bengaluru; police gift him with bullet in leg
Rahul, was arrested by police, after he celebrated his 21st birthday by attacking 11 people and vandalising shops and vehicles in Chamrajpet, Kasturba Road, and other areas of Bengaluru on Saturday. The accused was accompanied by 6 of his friends.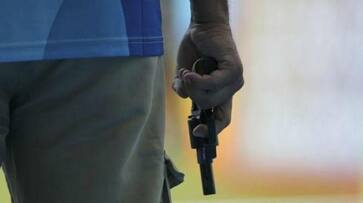 Bengaluru: Byatarayanapura Police arrested Rahul K alias Govinda, on Monday morning for going on an assault spree in the city on Saturday. While one would think that the assault was done in angst, the truth was the attack on people and vandalism of vehicles and shops by Rahul and six of his friends was done as apart of Rahul's birthday celebrations.
According to a police report, Rahul who resided in Kasturbanagar had recently shifted to Vijayanagar. He visited his former locality on Saturday to celebrate his 21st birthday with his friends. The gang of birthday celebrators had been partying till evening by which time they were drunk.
The inebriated revellers soon resorted to terrorising public between for fun. Between 4.30pm and 6.30pm, they roamed the streets on three scooters and assaulted several people with cricket bats and knives. Byatarayanapura Police have registered six cases and Chamarajpet  Police filled three case against Rahul and his friends on Saturday.
Byatarayanapura Police received information that Rahul had been spotted roaming near Ramasandra, Jnanabharathi and a team led by inspector Virendra Prasad rushed to the spot.
During the arrest, Rahul tried to stab a constable, Prakash. In a bid to thwart his attempts at launching further attacks Virendra shot Rahul in the leg.
Both Rahul and the constable were rushed to Victoria hospital. According to police, Rahul already had two robbery case registered against him.
In a span of two hours the gang attacked 11 people. While travelling through the streets of the city, the gang swung their bats at passers-by and hurled abuses at them.
According to a ToI report, they first assaulted Vaseem, 27, of Shamanna Garden and an auto driver near Kasturba Road. The miscreants damaged the vehicle before assaulting the auto driver.
Minutes later they assaulted a labourer, Diwakar at Timber Layout and damaged his bike.
The gang then attacked two men in a span of 10 minutes in Rudrappa Garden; 28-year-old labourer, Irfan and auto driver Muniraju. Irfan was robbed of his mobile phone after he was assaulted, and Muniraju's auto was again damaged.
Minutes later, the assailants vandalised a bike and attacked two passers-by before fleeing Rudrappa Garden. One of the passers-by, Hemant Raj P, sustained severe injuries and was rushed to NIMHANS.
The gang then stopped by at Mysore Tea Bar Bakery at Kasturbanagar and assaulted its owner Ganesh BR, 25, and his friend Shivanna, an auto driver. Again, the vandalised damaged Shivanna's auto and the bakery.
The gang then travelled to Christian burial ground, where an Annappa M, aged 47, was standing beside his vehicle. They vandalised the vehicle and threw his mobile after beating him up with cricket bats.
The gang then attacked an 18-year-old student near a private college in Kasturbanagar and threatened him at knife point before taking away his bike worth Rs 1 lakh. The gang then assaulted the owner of Shabari Condiments in the area at around 6:30 pm and sped away.
Last Updated Jun 25, 2019, 7:30 PM IST